Is there any sweeter moment in a hiring manager's career than when a highly-needed position on their team is filled by a rock star candidate? The day this Einstein accepts the offer and signs on the dotted line isn't where the celebration should end. Carry the positive energy throughout their first days with your company to give them an unforgettable onboarding experience!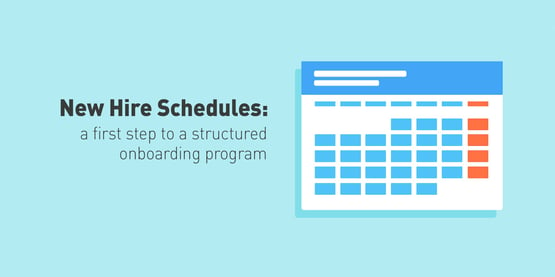 One of the best (and often overlooked) ways to ensure new employees stick around is to provide structure during their first weeks. In fact, a Wynhurst Group study found that new employees who went through a structured onboarding program were 58% more likely to be with the organization after three years.
One step in the right direction is to give each new hire a comprehensive schedule that outlines what they will be doing during their first week on the job. An itinerary gives them a sense of purpose and direction, helping them grow a connection with your organization right off the bat. Here are a few tips to make the ultimate employee onboarding schedule!
Fill Their Days - Starting a new job can be a jarring experience, especially if the individual was with their last employer for many years. Filling their days to the brim will help keep their minds occupied on something other than their nerves and anxiety. Set up meeting times for them with key players within the organization: and don't exclude upper management from this list! Giving new hires brief, but meaningful face-time with chief officers and executives breaks down communication barriers and organizational silos.
I reflect fondly back on my onboarding experience at Baudville. I picked orders in our warehouse, listened in on calls with our customer service rock stars and met with a few executives. This experience not only kept me energized during my first week, but it gave me a great well-rounded introduction to the company!
Don't Give Them Busy Work – Far too many people experience the same miserable onboarding experience. They are led to their desks and left to just browse the company's website or past projects for hours. Becoming familiar with your organization's history and current offerings is obviously very important, but try to present that info in a fresh new way.
Create a new hire scavenger hunt where they are to scour the website for a list of information or answers to quirky questions you provide them. For example, "Find a product on the website that has 4 flat sides and a handle," is a great way to help familiarize them with your site and product line!
Train Them with Care – Whether your team member has a solid 10 to 15 years of experience under their belt or they are a just starting out, make sure you give them the proper training they need to be successful. Don't assume they know the ins and outs of all the programs they will use daily, even if they have had experience with the software in the past.
Designate a subject matter expert who knows the program well and have them train the new employee over the course of their first several weeks. This will help build confidence in your new hire and help ensure they understand how your organization specifically uses the tool.
If it's their first job out of college or a promotion of a lifetime, give your new hires a structured (and fun) first week(s) on the job with a proper onboarding schedule!