Baudville has been in business for almost 30 years, so we have a lot of expertise and insight to share with our customers on employee recognition! One of the most important tips we share with managers is that employee recognition programs need to be as dynamic as the employees they serve. To help you keep your programs fresh and exciting, we are constantly creating new recognition themes, gifts, and tools. Recently, we released two new recognition themes and added items to our most popular lines of appreciation gifts.
For example, consider our proprietary recognition themes. Our themes make employee recognition programs and events easy to create. Each theme is made up of exclusive artwork and messaging that we apply to gifts and tools. Using a theme makes your appreciation more effective because the repeated message reinforces the value or behavior you're recognizing.
Now available on Baudville.com, our two new recognition themes are ready to become a part of your recognition program. The new themes "You Rock " and "We Appreciate You " both have more than ten unique appreciation gifts that can be included in employee recognition programs. I know the bright colors and timely sentiments will be as popular with your team as they were with ours.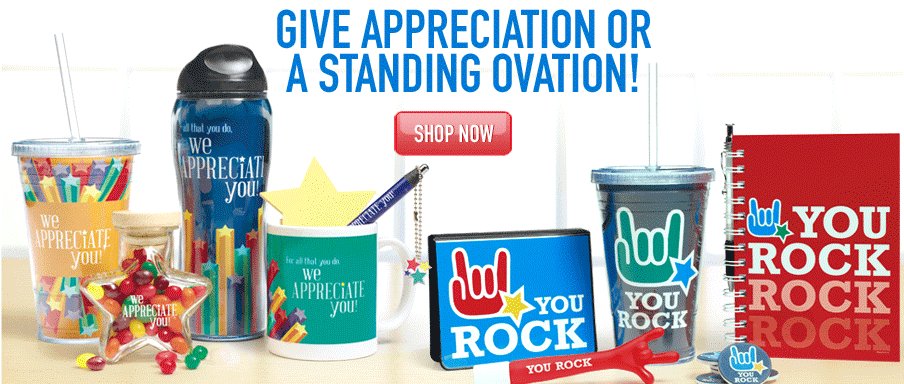 We also added new Twist Top Tumblers drinkware and lapel pins. I expect the Twist Top Tumblers to be a popular corporate gift for summer events this year!
Our artists have been busy designing new lapel pins, too! You can check out their thirty new lapel pin designs online. The new lapel pins help managers keep their employee recognition programs fresh by regularly updating the appreciation gifts and awards.
At Baudville, product innovation and design has always been a top priority. Every product is designed to the highest level of design and practicality for our customers. We want to create great looking tools and gifts, and we want them to work well for our customers.
Tell us what you think! What's your favorite new product or theme?
--------------------------------------
Kristy is the Vice President of Product and Merchandising at Baudville. Since joining Baudville in 2008, she has been integral in the development of the functional, innovative, and great looking products you see today. As the fearless leader of a multifaceted team of creative minds, Kristy always stays armed with her secret weapon of motivation: candy!