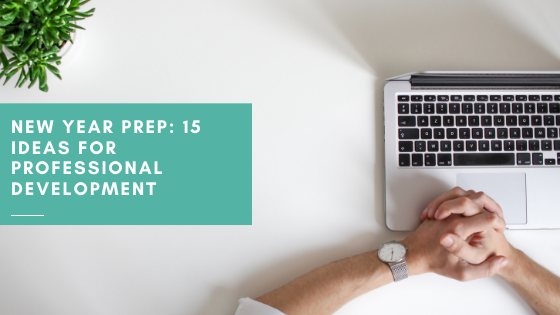 Oh yes, the holiday mayhem is here, and many of us are already dreaming of a long winter's nap come January (at least I am). Unfortunately, hibernation isn't an option we can afford. Once the eggnog is gone and the decorations come down, we need to rev up our spirits and jump back on the work train.
To help gain some momentum, now is the time to set professional goals for your new year. Options abound for career and skill development, but also consider implementing small personal changes that will impact your overall life. Your health and performance depend on you being well-rounded, mindful, and excited about your work.
Here are 15 ideas to get your professional energy flowing and goals on track. Let's welcome the new year with positivity, joy, and hope for all the great things to come!
15 Ways to Get Better in the New Year
Get New Certifications
This is an obvious one. Look into online courses that bump up your current skills. If you're an employee, don't be afraid to ask your company for financial assistance (the new certification should directly apply to your job).
For more general development, you can also find free instruction from professional organizations, webinars, videos, etc. Or read blogs, trade journals, and white papers. Keep an open mind to the possibilities and do your research.
Set Smaller Goals
Instead of creating a page-long, overwhelming list of to-dos, set daily or weekly goals to keep motivation steady.
Learn to Delegate
This is a biggie—we want to do everything ourselves to get the job done right. But this isn't allowing your team to expand their horizons. Pass off work that cultivates growth in others, and gives you a little extra time to breathe.
Invite Feedback
Constructive criticism benefits us all. Be open to the opportunities feedback offers, especially if you're a business owner or managing a team.
Be Proactive
Don't wait to address problems when they arise. Are you struggling with a co-worker; is a team member slacking; is your boss asking too much of you? Talk things out as soon as issues arise.
Find a Common Interest, Activity or Goal With Your Co-workers
Do all of your team members love animals? Spend a day out of the office, but together, volunteering for a favorite charity. Or start an office book club to encourage lively discussions and connection.
Set Boundaries
Learn to say no. A tough one, but critical to overall happiness! Hire a professional for guidance, if you really struggle in this area.
Improve Morale
Whether you're an employee, manager, or owner, put effort into nurturing a company culture based on inclusion. The more everyone feels engaged, respected, and appreciated, the more productive and successful your team will be.
Communicate More and Better
All good work is the result of sincere, continuous communication. If communicating isn't a strong point for you and/or your team, consider bringing in a specialist to help.
Develop a Growth Mindset
Continuously strive to be better, allowing collaboration and innovation to be a part of your everyday routine.
Practice Mindfulness/Meditation
Don't scoff—this may be considered a personal goal, but everything in your life benefits from this practice. Taking a few moments each day to turn inward will make a world of difference in outward behaviors—just five minutes can positively affect your attitude, stress levels, interaction with others, and work performance. A multitude of apps are out there to get you started.
Embrace Change
We've been forced to modify pretty much all of our behaviors this year. Continue being receptive to how change transforms us into better humans.
Vow to Put the Phone Down / Close the Computer at a Specific Time Each Day
Need I say more?
Make Time for Rest and Fun
You work you're B-U-T-T off, so be sure to find time for rest, relaxation, and good times! Every Sunday evening, make plans for the weekend ahead—this will supply motivation to get you through the week.
Be Confident
The great English essayist, William Hazlitt said, "As is our confidence, so is our capacity." Confidence helps us in all realms of life. Learn to trust your instincts and your ability to handle difficult situations. Don't be boastful or arrogant; just be strong and steadfast!
Here's to setting and meeting professional goals, and may you have a healthy, productive new year!
Our mission is to help you find ways to recognize and appreciate others. Visit us here for more ideas and inspiration.