Sip Sip Hooray! We've made it to the new year! Now it's time to take advantage your clean slate and make the most of the new year ahead. But, before you crush your goals and New Year's Resolutions, let's make them! And rather than focusing on concrete goals (we know you know what they are), we're focusing on feelings.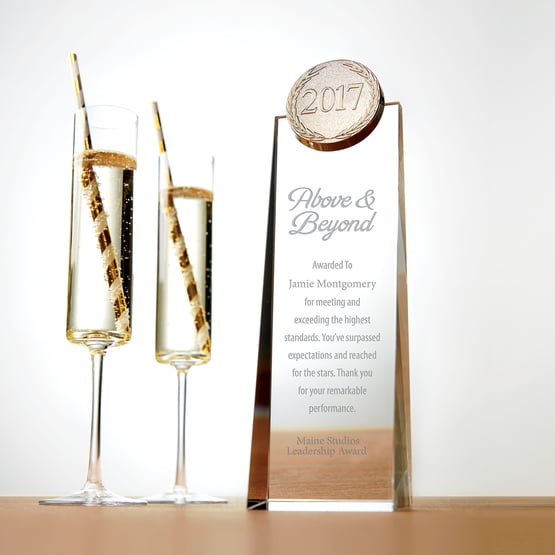 Here are six feelings to bring into your workplace culture this next year:
1. Positivity
Liven up your office and workplace culture this year! Create inspiring work spaces with fun desk accessories and encourage your employees with a handwritten note or little piece of day-to-day recognition. Keep it going all day every day to improve employee work satisfaction and boost employee productivity.
2. Purpose
Did you know that 60% of workers don't know about their corporation's goals, strategies, and tactics? Wow! That's 60% of employees whose ability to innovate and think about the big picture are largely affected. As a business leader, you can instill a sense of purpose in your employees and help them understand how they fit into the puzzle. Take some time at the beginning of the year to lay out the "why" and "what for" behind goals, projects, and assignments to your employees.
Another way to practice purpose is to make a difference in some way. Be a company with purpose-driven culture and find volunteer opportunities in your community that you can do as a team!
3. Enrichment
Now's a great time to resolve to further your own and your employees' professional knowledge. Are there seminars, webinars, or conferences that align with your company's work that would benefit and grow your employees' understanding of your business? Do it! Investing time and money in continued education is worthwhile, because you'll see a return through increased productivity, more innovation, and more creative ideas.
4. Excellence
Set a standard of excellence in your workplace through a great example of leadership. Model the feelings you want to cultivate. For example: Walking into a meeting with a smile on your face will create a culture of joy, whereas a neutral expression creates a "ho-hum" culture. Model the drive you expect from your employees by working hard on your tasks and demonstrating what good work ethic looks like. Set goals that will provide a challenge for your employees and grow their job skills.
5. Accomplishment
Recognize, recognize, recognize! Recognition encourages continued performance. Plus, it motivates other employees to do their best work. Day-to-day recognition is a great way to give an everyday high five for employees' everyday wins. Peer recognition is awesome for building team camaraderie and motivating a culture of appreciation. More formal awards are perfect for recognizing top performances, outstanding achievements, and service dedication. All instill a sense of accomplishment in your employees.
6. Fun!
Last, but definitely not least, promote fun at work! And for this, we encourage you to check out these posts:
What are some of your workplace New Year's resolutions? Tell us in the comments below!