Almost exactly five years to this day, I got a call from my sister. She told me that after some suspicious self exams, her doctor ran a series of tests and procedures that revealed a cluster of malignant cells. At 41, my sister was diagnosed with breast cancer.

How powerless we all felt—me, my parents, her husband, her two daughters, her dear friends, and, of course, my sister herself—as we waited to learn what was next. Was it treatable? Would she be pumped with drugs that would sap her energy and cause her hair to fall out? Would she have to undergo surgery and lose a part of herself? Would the unthinkable happen?

She did receive treatment, and ended up being one of the fortunate ones: within about six months, she was almost entirely back to her old self. Minus some tissue, but plus a positive prognosis for a full recovery.

Whew.

I could recount a similar story about my maternal grandmother. Or my mother-in-law. They were also touched by this frightening disease and lived to tell about it. But so many aren't so lucky. Which is why my family gathers every year in April to raise funds and walk a 5K to support research and promote breast cancer awareness. It's also why I take part in Baudville's campaign during October, Breast Cancer Awareness Month.

At the beginning of the month, Baudville team members purchase special pink Casual Day Stickers. Baudville's Helping Hand matches those donations and, at the end of the month, gives all the proceeds to the National Breast Cancer Foundation. Those participating fill out their stickers by finishing the sentence "I'm Casual Today Because..." I know one of mine will say "...I'm grateful that my sister is a survivor."

This disease hits close to home for many people. Within these walls, it seems everyone has a story. Combined with support from Baudville's Helping Hand, we all pull together to help make sure more of them have happily ever afters.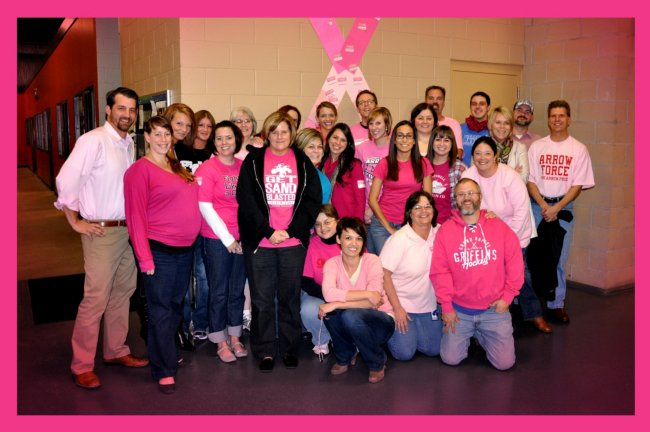 Want to learn more about our charitable activities? Visit
baudvilleshelpinghand.org
. Have your own story to share? We'd love to hear it! Please tell us about it in the comments section!

--------------------------

Allison is a self-proclaimed Copywriting Diva and has the certificate to prove it! She's been writing for Baudville for more than four years and has worked in a variety of business settings for 20 years. Before becoming a professional writer 12 years ago, Allison worked as a department manager where she used Baudville products to motivate her team. She's what we call a true believer!