On Day Three of Customer Service Week, We Sure Did Like Them Apples!

Living in Michigan, we never have a shortage of fresh fruits in the summer months—thanks to the abundance of farmland that equals the number of urban centers in our awesome state. Strawberries in June, cherries in July, blueberries in August, peaches in September, and apples in October...lucky us!

We Michiganders are fortunate that we get to shop local for all this good stuff—and we pay it back by giving our loyalty to those who bring it all to us.

Today, we got a special treat from Koeze's, which is a Grand Rapids treat and sweet shop specializing in nuts, chocolates, brittles, and…caramel apples!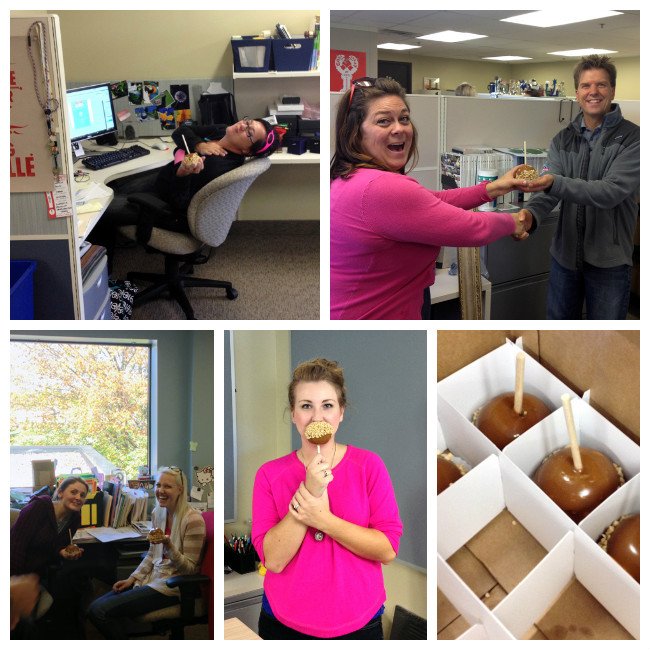 Once again the big cheeses were leading the charge, traveling from department to department to deliver the deliciousness.

It was a nice surprise and a great pick-me-up for the afternoon.

I haven't heard what's on the agenda for tomorrow, but I still have a token with a sudsy stein printed on it...

Stay tuned!

--------------------------

Allison is a self-proclaimed Copywriting Diva and has the certificate to prove it! She's been writing for Baudville for four years and has worked in a variety of business settings for more than 19 years. Before becoming a professional writer 12 years ago, Allison worked as a department manager where she used Baudville products to motivate her team. She's what we call a true believer!