When I pulled in the Baudville lot yesterday morning, I saw them setting up and all I could think was, "Well, at least the sun is out!"

Good thing, too, because starting at noon, our executives and top leadership each took a turn getting plunged into a dunk tank. Brought in especially for Customer Service Week, the dunk tank offered everyone in the company an opportunity to sink the bosses (even the bosses took shots at one-another, and, as it turned out, they were the most competitive!).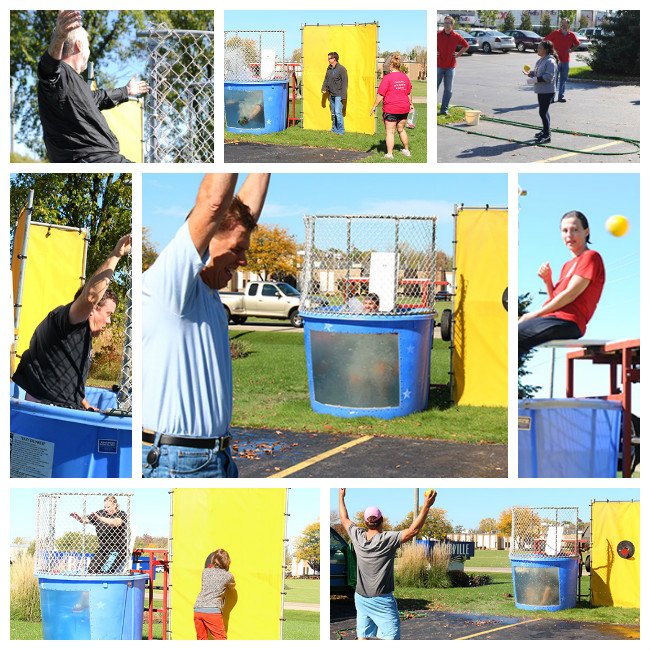 We each got one free token, with extra tickets available to purchase. I bought my extra ones, knowing I'd need them, but also because I knew all the proceeds of those would go to the National
Breast Cancer Foundation
at the end of the month.

And, oh, what a success it was! Employees got to spend some time in the unseasonably, warm October air, while blowing off a little steam and getting a lot of laughs. The best part was how much money we raised! None of us could help buying more tickets—emboldened when we made a dunk and resolved to keep trying when we didn't.

By the time the last boss was sunk, we had raised over $500. Wow!

Well done, Spirit Committee! You combined a great time with a great cause.

I've just heard hints of what's up for today. Sounds like it's gonna be pretty sweet...

Stay tuned! If you missed what we did yesterday,
check it out here
!