It's that time of year again… when tradeshow related-tasks are constantly added to my "to-do" list… when I develop anxiety over what clothes to pack…and when I'm kept up at night worrying about my booth arriving on time. In the midst of all the tasks and stress, I focus on the human resource professionals I'm going to meet and reconnect with - they make it all worth it!
That's right, the Society for Human Resource Management Annual Conference is upon us! In two weeks, I'll be stationed in booth 3427 in the Las Vegas Convention Center talking to attendees about all the easy, effective, and affordable employee recognition solutions Baudville has to offer.
By now, I consider myself a SHRM Annual Conference Veteran. That's right, capital "V." Although I can't touch the attendance records by some attendees (many have been going for 10+ years!), this year marks my fifth return to the largest human resource conference on the planet. And it's going to be a hot year!
We'll have lots going on in the Baudville booth, and new faces eager to share the Baudville story with attendees. Here are a few things you can expect in booth 3427:
- Sunday night cupcake reception featuring decadent treats from GiGi's Cupcakes. But hurry! They go fast!
- Free tote bags with the cleverest HR sentiment at the show
- New staff t-shirts – what will they say this year?!
- Exclusive Print and Posts on our SHRM catalog
- A chance to win your very own Baudville t-shirt
- Top recognition products that can transform your culture
- Super Hot Rocking Markdown for everyone who stops to say "hi"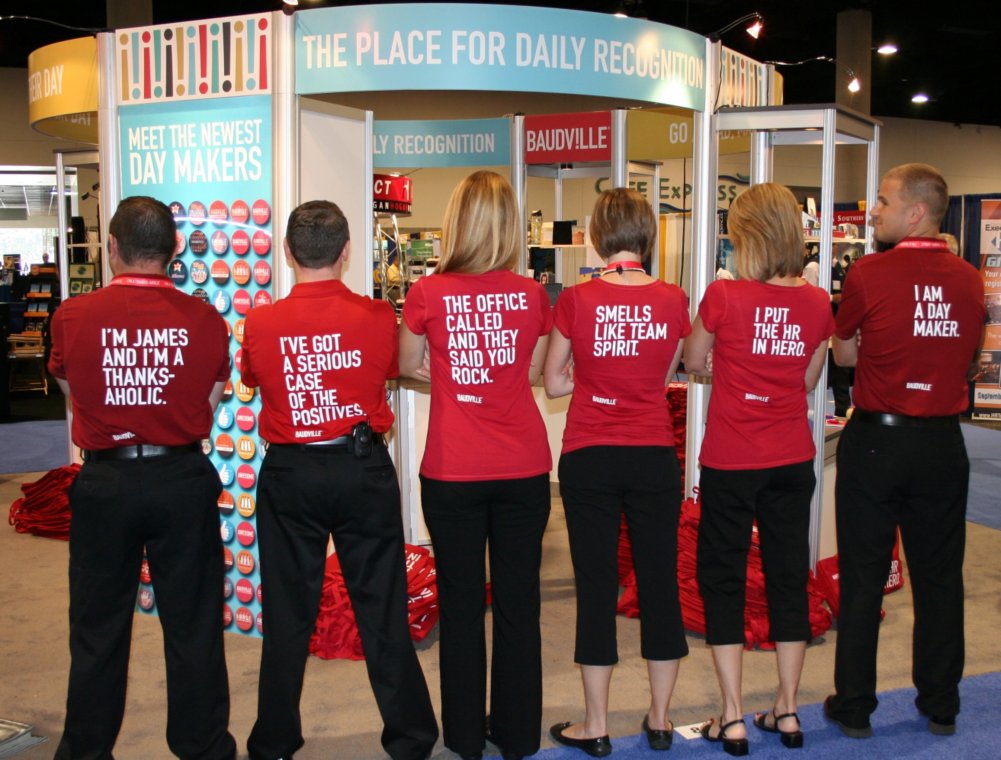 Baudville staff show off their unique shirts at SHRM 2010.
This year, you can win your own Baudville shirt!

As you can tell, SHRM is going to be rocking in Las Vegas. Stay connected with us for all the conference festivities by following Baudville (@Baudville) on Twitter, and sign up to receive our blog posts via email so you don't miss any of the action!
See you in two weeks!
-----------------
Cori is Baudville's in-house Recognitionista (she's officially a Certified Recognition Professional, too) and a member of the Millennial generation. Get her employee recognition tips and special discounts by liking
Baudville on Facebook
.