As 2017 rolled to an end, and work wound down for the year, the Baudville Product Team was busy wrapping up another great launch (we may be a little bias!). This January we added over 200 new products to help you empower, recognize, and support your teams!
A major focus for us was value products – we want to help you be able to buy more, more often. We know that consistent "pick me ups" and "you rocked its" are what keep great employees going.
After months of hard work, and many tweaks and changes, we are very proud of what we have to deliver to start the New Year. We hope you love these goodies as much as we do. Here are a few team favorites –
One of our favorite trends that we totally jumped on was all things Ombre. Our Ombre Acrylic Trophy Collection is something we have been dreaming up for quite some time. We drew inspiration from a one-of-a-kind art piece and knew we had to make this work for you guys! What a fun, fresh way to award those awesome go-getters! And then of course, if the Bowie bottle can be done in a new way, we are going to do it. How fun to have this ombre spin on a classic? We continued this trend with the Value Ombre Drawstring bag. This is an awesome, affordable option that fits into the budget.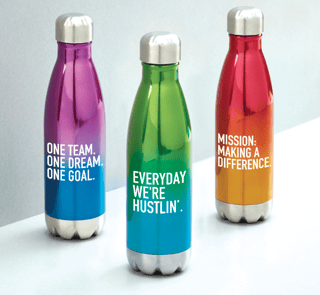 If you really want to add flair to the office, the Marquee Desk Lights are just what you need. These Baudville exclusives are sure to draw some positive attention, and desk envy! If you are seeking some more subtle décor, with the option of a personal touch, check out our Cheerful Photo Desk Stand. What a great way to constantly remind your team they are truly appreciated!
We also launched some great desk accessories to help inspire the workplace. These finishing details are too much fun to pass up. Some fan favorites are the new Colorful Pen Packs and Rainbow Roll Memo Tapes. The pens are so modern and sleek, and the best part is they write in the colors of the barrel! And who doesn't want to jot down a reminder on a rainbow?! Both of these are great on-the-spot gifts to remind your team how awesome they are!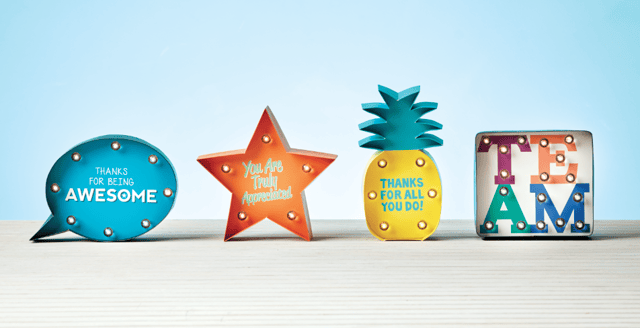 Hope you are as pumped about this launch as we are. We love coming up with new, creative ways to inspire. Can't wait to see what else is in store for 2018!