I've written before about the value of goofing off (once in a while) at work, and I still stand behind my belief that games = gain. But what if there were an office game that encouraged and motivated desired behaviors by design?

There is, and it's now available to you free in our Recognition Resource Center! Our version of office BINGO, called BRAVO (of course), has an assortment of sentiments that put the words in your mouth when you want to recognize a great job, a great attitude, or just greatness in general.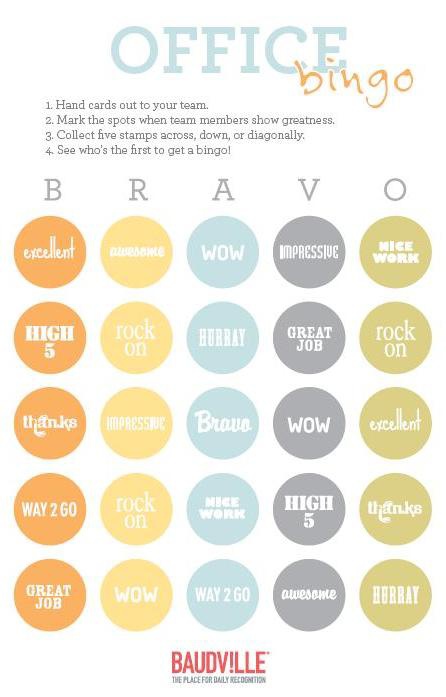 You can download it here to get started. Then hand one card out to each team member and challenge them all to get a BRAVO. How will they achieve it? By going above and beyond, working extra, helping a coworker, exceeding expectations, or any other action that makes you want to shout BRAVO!

Your job is to pay attention, so you notice when these amazing moments are happening, then make sure you mark or stamp a circle on their card that expresses your awe.

That's all there is to it. You decide the duration of the game, the number of possible winners, and if there are prizes.

Have fun!
And, if you do have fun, tell us about it!
--------------------------

Allison is a self-proclaimed Copywriting Diva and has the certificate to prove it! She's been writing for Baudville for four years and has worked in a variety of business settings for more than 19 years. Before becoming a professional writer 12 years ago, Allison worked as a department manager where she used Baudville products to motivate her team. She's what we call a true believer!