The numbers are in: the latest Gallup Survey reports that 70% of employees are either not engaged or actively disengaged at work. Whoa...that's a staggering statistic!

It's clear that many American workplaces need an intervention. Is yours one of them? If so, our latest issue of RecogNation can help! Read it now and you'll learn from the experts how to reverse this trend and re-engage those who have gone astray.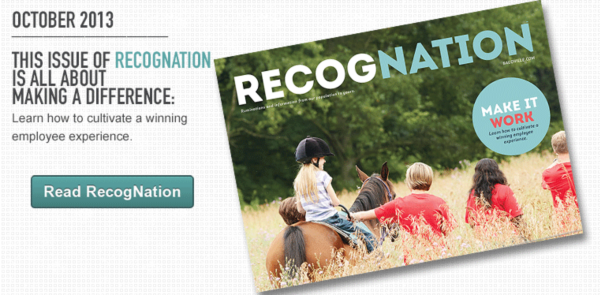 Inside, you'll discover how to give your employees valuable face time with your company's leadership, how to encourage team togetherness and individual friendships, and how to get your employees engaged in idea sharing and innovation. You'll also see how wellness, philanthropy, and award ceremonies are integral to creating a robust and engaging employee experience.

Ready to get inspired—and make some positive and rewarding changes to your workplace? Grab a cup of whatever suits your fancy and let's get busy!

--------------------------

Allison is a self-proclaimed Copywriting Diva and has the certificate to prove it! She's been writing for Baudville for five years and has worked in a variety of business settings for 20 years. Before becoming a professional writer 13 years ago, Allison worked as a department manager where she used Baudville products to motivate her team. She's what we call a true believer!