As we continue to troubleshoot some of the HR issues that came up at SHRM 2014, I have to say I was pretty surprised that so many attendees are still feeling that lack of budget is one of them. I don't want to put Baudville out of business or anything, but I'm here to tell you that some of the best recognition is free or darn near
Sure, sometimes money talks and other times big shiny awards shout, but what's really important in most people's days are the small moments of appreciation and encouragement. If you think you can't afford a recognition program, you should know that, these days, you can't afford not to have one. And, if you follow these simple ideas, you can reap all of the benefits without breaking the bank.
The Magic Touch. High-fives, handshakes, and pats on the back are all perfectly acceptable ways of giving on-the-spot, totally free recognition. Served up strategically, by the right person at the right time, they have day-changing power. Trust me on this. I've experienced it firsthand.
Public Displays of Appreciation. This next no-cost recognition idea comes from one of my favorite virtual consultants: Harvard Business Review. Giving verbal props to a deserving employee at an all staff or a more private team meeting is a meaningful form of acknowledgement that gives the recipient a pride-worthy and memorable moment. You only spend a little bit of your time, but you earn ten-fold in employee satisfaction. Here's an abridged version of HBR's advice:
"…because recognition is a powerful motivator, you need to find ways to give it. Try sending written acknowledgment, like a thank-you email with senior management copied. In team discussions, recognize behaviors that people should continue. Hold sessions focused on positive feedback and have everyone share what they appreciate about each team member, whether specific contributions or general strengths. Finally, share credit publicly." (You can read the entire tip of the day here.)

Group Love. If you're operating with little or no recognition budget, you can still build a culture of recognition, by inviting everyone's participation. Peer-to-peer recognition not only takes pressure off managers, but, by nature, it costs little or nothing. Think small notes, Shout Outs™, free downloads, and free ePraise. Make these tools accessible to your team and provide incentives (like casual days) for participation, and you'll achieve a robust program for less than a daily trip to the vending machine.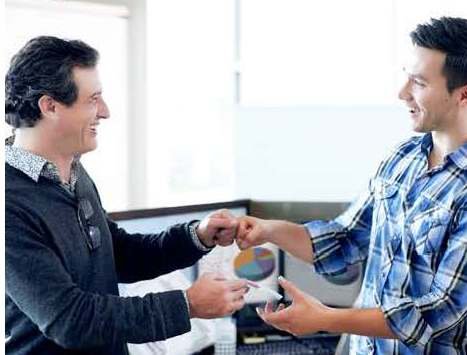 --------------------------

Allison is a self-proclaimed Copywriting Diva and has the certificate to prove it! She's been writing for Baudville for five years and has worked in a variety of business settings for 20 years. Before becoming a professional writer 13 years ago, Allison worked as a department manager where she used Baudville products to motivate her team. She's what we call a true believer!