At Baudville, we encourage all of our customers to celebrate Employee Appreciation Day. Annually acknowledged on the first Friday in March (March 4 this year), Employee Appreciation Day reminds managers, bosses, and employers to appreciate the individuals who keep the company running.
Celebrating Employee Appreciation Day can be a simple celebration when you get the entire team involved. Peer recognition will make everyone feel appreciated on Employee Appreciation Day, and it can be continued long after the day has passed.
Ben over at UpstartHR is one of our friends in the HR industry (I told you about his ebook yesterday) who recently tried out Shout Outs at one of his facilities. Even before the program was officially launched, employees were using the notes to thank and encourage their teammates.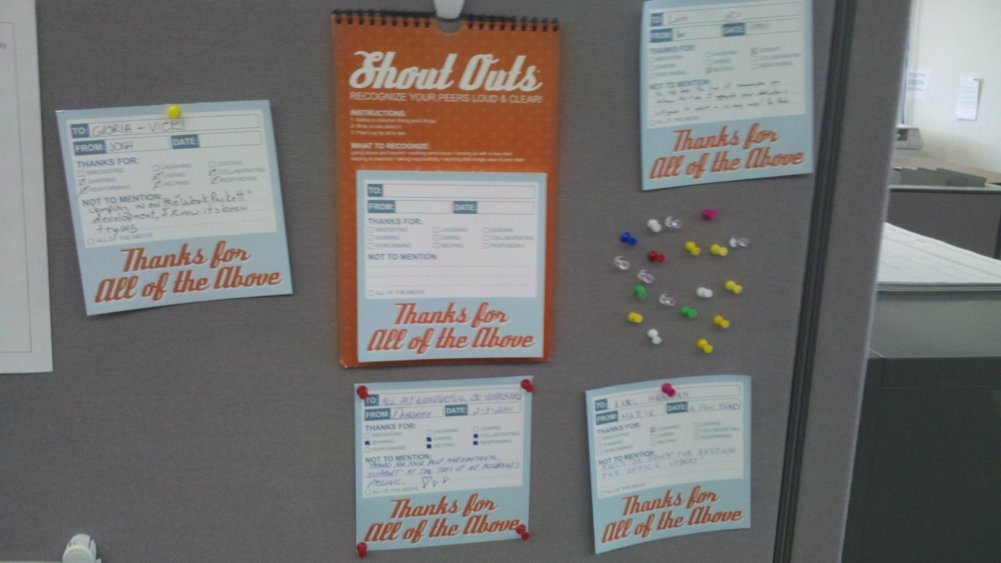 Shout Outs in use.
To use a peer recognition program on Employee Appreciation Day:
 First thing in the morning on Employee Appreciation Day, clearly communicate how the program works.
 Make the tools accessible to everyone.
 Utilize the power of public recognition. Post the notes in a public location so everyone can read them.
 Talk about the recognition at the end of the day. Pull the team together and read some of the outstanding notes.
 To make your Employee Appreciation Day peer recognition activity even more exciting, create small awards and present them at the end of the day. For example, you could honor the most eloquently written shout out, best haiku shout out, and the individual who received the most accolades.
Read more about peer recognition in these blog posts:
Everything You Wanted to Know About Peer-to-Peer Recognition Programs
How to Boost your Recognition Program with Peer Shout Outs
Peer Recognition is Coming to your 'Ville

--------------------------
Cori is Baudville's in-house Recognitionista (she's officially a Certified Recognition Professional, too) and a member of the Millennial generation. Get her employee recognition tips and special discounts by liking Baudville on Facebook.