When we set out to create our own internal peer recognition program, we had a pretty good feeling it was going to be popular. We're Baudville, after all; if anyone knows how to recognize, we do. But I don't think anyone expected that it would be this popular: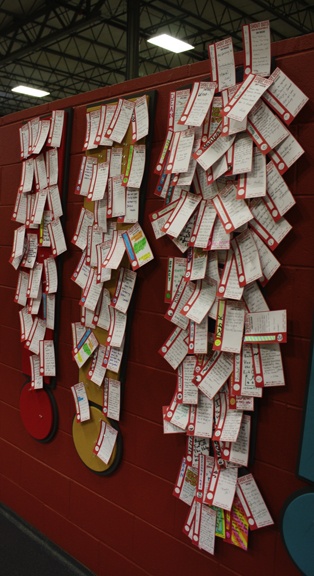 (Wow, there was some serious awesomeness going on the third week of that month!)
If you're wondering what, exactly, you're looking at, this is Baudville's Shout Out wall where employees post recognition notes about their coworkers. It's part of our peer recognition program, called Shout Outs, which encourages staff to recognize each other based on our company's seven core values: inspire, nurture, share, perform, innovate, respond, & excel (it spells INSPIRE; clever, eh?).

At any point in the day, you can find a Baudvillian paused at the wall to read the latest post. People get excited to write them, read them, and most importantly, receive them. At the end of each month they get distributed to the recipients, who can't help but post them up at their desks. What a way to spread positive mojo!

But, what we really love about peer recognition is the way it enhances our already thriving recognition program by giving staff the opportunity to share their input. Employees also have a better understanding and appreciation of the contributions of their coworkers—especially those they don't work directly with. And, because managers see the Shout Outs, they get the inside scoop on all the day-to-day greatness going on.

Thinking you want to try it at your office? Well, after test driving our program for about six months (and seeing amazing results), we decided it was a no brainer to bring this product to our customers. And we know you like variety, so we developed the program in three of our most popular themes:
Shout Outs are inexpensive (only 50¢ per note), really easy to implement (you pretty much just need a wall), and a great way to energize a team without a lot of work from managers. See, really—a no brainer!

--------------------------

Allison is Baudville's one (and only) Copywriter. She's been writing for a variety of media for more than eight years, so if she tells you she has been there and done that, she probably has. Before embarking on a career in writing, Allison worked as a department manager where she used Baudville products to motivate her team. She's what we call a true believer!