Every year, employees at Baudville look forward to the Year End party. The event is an opportunity for the team to enjoy camaraderie, a good meal, and recognition by senior leadership. Recognition is an important part of our year end party, and we have several awards that are announced at this event. The entire company anticipates who will be the next award recipient.
Year end awards are essential to an organization's culture as they communicate what behaviors are valued. Award ceremonies also provide motivation for the entire team. Employees who attend the award ceremony – whether or not they're a winner – can be inspired by a high-achieving coworker and strive to earn the award themselves.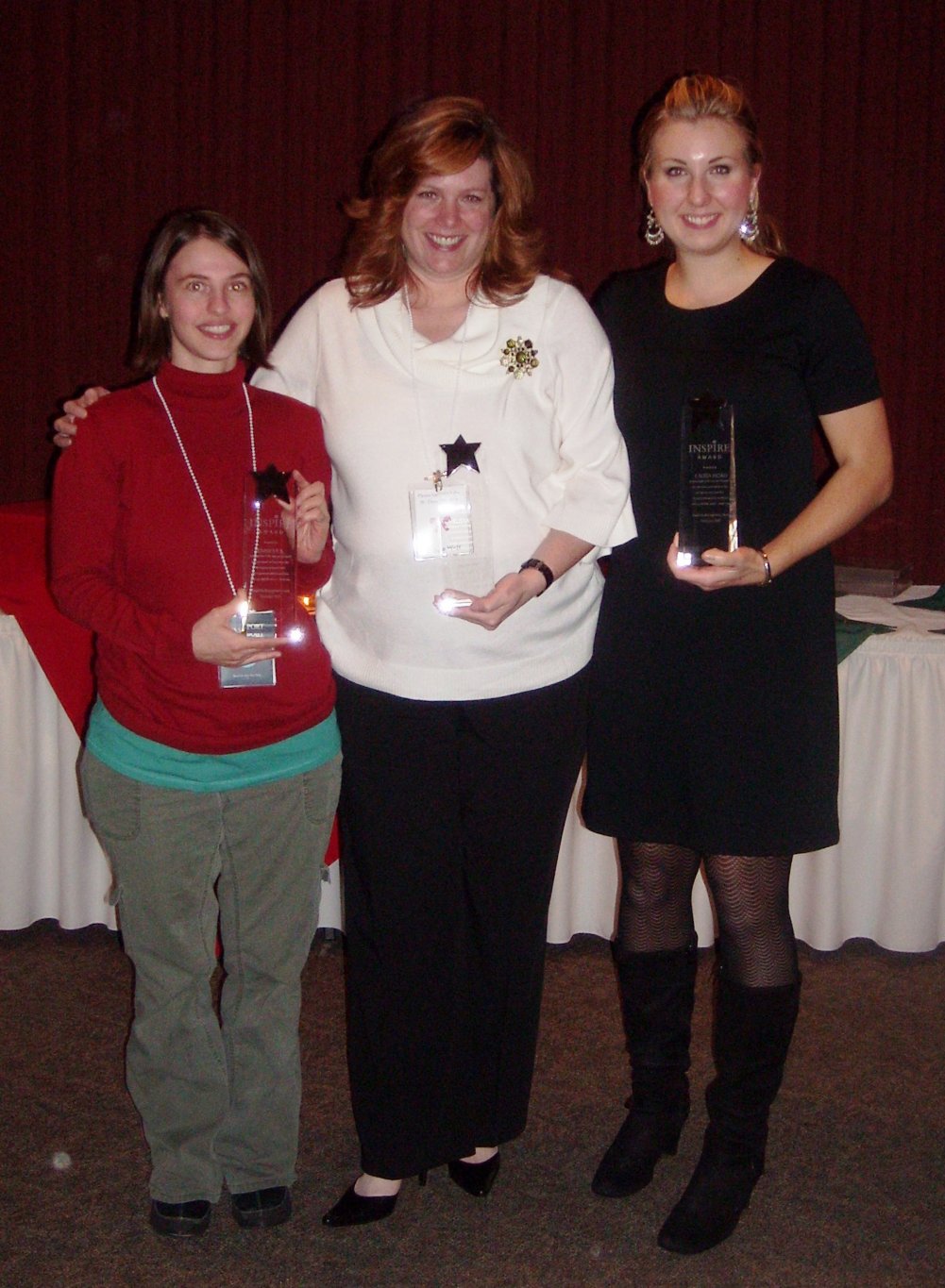 Baudville Inspire Award Winners accept their Crystalline Tower trophy at the Year End Party.
Awards vary by organization and industry, but there are four primary award structures that you can follow to create an effective year end award program.
1. Team Awards: We all know that together everyone achieves more, so recognize the team that exceeded their goals this year. Create a set of criteria to examine each team in your organization to select a winner. At your award ceremony, present each member of the team with a Tribute Trophy. It's an affordable trophy option, so you can give everyone a symbol of their accomplishment.
2. Service Anniversaries: Year end events are a popular time to recognize service anniversaries, such as 5, 10, 15 years, and beyond. Honoring milestone years at your event expresses your organization's value for dedication and commitment.
3. Perfect Attendance: Don't forget to give special recognition to your employees who had perfect attendance – that's a huge accomplishment! Baudville presents employees who achieve perfect attendance with an award certificate in a certificate folder at our year end event.
4. Outstanding Employee Award: Most organizations have some form of this award to honor top performers. This award typically requires a nomination from managers and a selection committee. These award recipients should be the best of the best, and your award should reflect that value. At Baudville, the Inspire Award winners receive a Crystalline Tower with a custom engraved message.

---------------------------
Cori is Baudville's in-house Recognitionista (she's officially a Certified Recognition Professional, too) and a member of the Millennial generation. Get her employee recognition tips and special discounts by liking Baudville on Facebook.