Everyday thank you gifts present a challenge for many managers. When an employee knocks out a project worthy of an A+, you want to recognize and thank them immediately. Going to a store to purchase a token of thanks is time consuming and at times, fruitless. While hand-selecting a thoughtful gift for every recipient is of course ideal, keeping a stash of on-the-spot gifts in your desk is a great way to make sure your recognition moment is timely!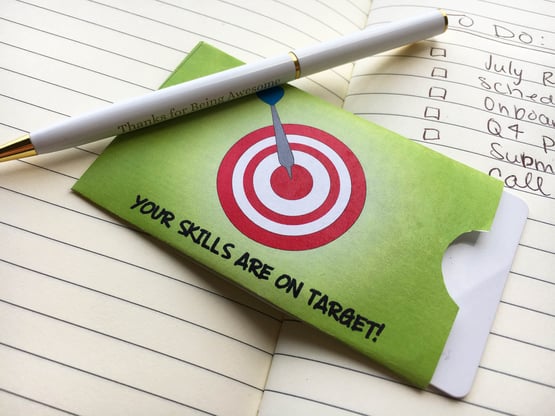 Head to your local convenience store and pick out a few low to mid-value gift cards to everyone's favorite Tex-Mex eatery, coffee shop, or retail store. Print out our DIY Gift Card Sleeves and wrap each gift with care! When you witness someone being awesome, grab a card from your stash, write a personalized note of thanks and leave it on their desks for an appreciation surprise!
DIY Holiday Gift Card Holders
DIY Gift Card Instructions:
Download and print these DIY Gift Card Holders in color.
Cut along the edge of each design fold/crease the paper along each line.
Place adhesive on the small flaps on the front of the gift card and glue to the back of the card
Let dry.
Place the gift card in the sleeve, and you're ready to recognize!