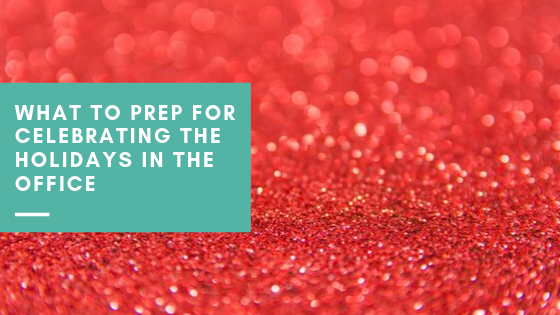 The holidays are wonderful. They're also busy, hectic, and sometimes a wee on the overwhelming side. To keep the holidays jolly, we've created a checklist of things to do to prep for celebrating the holidays in the office. Hopefully it will ensure no popcorn is left unstrung or holly left unhung!
Holidays in the Office Prep Checklist
Plan Your Work Holiday Party
Enlist the help of elves (or really awesome co-workers) to plan your office holiday party.
Decide on venue – will you be hosting it in your four walls or renting a new space?
Send your invitations out
Determine the menu
Create a holiday playlist or use an existing one like our favorite Ultimate Holiday Playlist
Find the Perfect Holiday Gifts
Use these gift guides to help you find the perfect gifts for your employees and guests!
Decorate Your Office and Trim the Tree
Decorating the office can be cost effective and a great team building activity! Clear your team's schedules one afternoon and decorate the office together! Here are a few of our favorite DIY holiday décor ideas:
More Resources to Make Your Holidays in the Office Joyful
Top DIY Gift Wrapping Ideas for the Holidays
30 Simple Employee Holiday Card Messages
5 Holiday Games to Play at Your Holiday Office Party