Change. Transition. These words can mean so many things – many times people perceive them as nasty four-letter words. When is the last time that you made a change in your professional life? How did you handle the ups and downs? What were your fears and joys? After five years of leading the Baudville Outbound Sales team, I took a leap of faith. Looking more toward my future and what I wanted out of my career, I decided to make a change. Here is my story…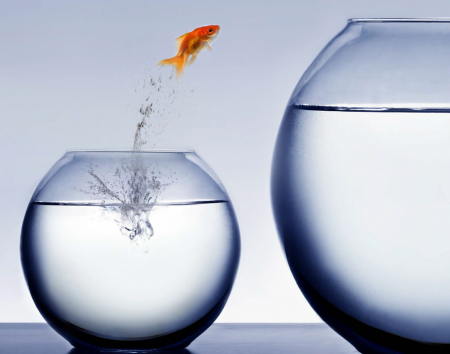 Soon after celebrating my five-year anniversary at Baudville, I was presented with the perfect opportunity to shake things up in my career! I adore Baudville and absolutely love what I do, but I knew that someday I would want to do something different, something that would bring me out of my comfort zone and challenge me in a new way.
Well, it happened more quickly than I anticipated! I never knew that I could have so many conflicting emotions happening at once: I was delighted and excited, but yet incredibly fearful. This was CHANGE . . . who does that on purpose? Now that I am almost complete with the transition from one department to another, I can look back and reflect on the roller coaster of those emotions and fears.
Trepidation – Oh my goodness…did I make the right decision? The offer was given, a pros/cons list made, discussion with family, and then the acceptance of the new position. Less than 24 hours later a sudden backlash of "What did I just do?" asking myself and others close to me "Did I make a mistake?" These, as well as a hundred other questions rushed through my mind at 100 miles per hour. I was sick to my stomach. I was unable to tell my team because of the internal process/procedures. I felt like a traitor, a liar. I felt as if I was abandoning those I hired, trained, and mentored. How would they feel? Would they hate me? Am I being selfish? A respected colleague of mine told me that the "freak-out phase" only lasts a little while, and yes I did make the right decision for my career. He was right…after a couple days and obsessing over my pros/cons list I settled down. I know that this is right for me with what I want to accomplish here and in my professional life. I am not leaving the company; I am going to try my best to help it grow and hopefully help others accelerate their careers along with my own.
Excitement – I get to meet my new team and begin to attend different departmental meetings. I am learning new things and I am loving it! I can see the vision of what we can do and accomplish together. I am able to see a different side of the business and learn what happens behind the scenes, from an operations viewpoint vs. being exclusively involved in sales. I am pumped to incorporate my sales experience and mix the two together for a great customer experience.
Overwhelmed – So many things to do. Tying up loose ends in one department by assisting with the search for a replacement(s) and training those new to the position. I want to make sure that they are prepared and know what they need to do to be successful. How does one "teach" five years' worth of experience in such a small time? Balancing responsibilities of two departments and beginning to let go of one while learning everything you can about the other. Wow, this is harder than I thought. But, the end of the transition is near. It is going pretty smoothly and the items on the task list are getting checked off.
Regret and Guilt - Passing over the responsibilities and letting go, while hating every minute of it. Again comes the second guessing, sadness, and doubts around wondering if I am doing the right thing. I have worked so hard and now I am giving it all up. Is there more for me to do here or is it time to pass the torch? Is this the right thing for the department? It doesn't matter if it is my pride or my stubbornness getting in my way, I have to make a conscience decision to let it go. Every step I have to remind myself that this is the right thing and the only way to complete the transition. I am the one who made this decision and now I have to follow through. The department is NOT going to fall apart with different leadership and it is crazy to even think that. You may be great at your job, but you are not irreplaceable. We have a lot of talented folks here and the new leadership team put in place is ready for the challenge and will do a great job.
Peace (well almost) – Today is the final day of the transition. The new Regional Team Leads are in place and given as much information as possible before they begin. I am tying up the last loose ends and preparing not only for the new step in my career, but for a family vacation that starts tomorrow (I am not sure which is more stressful right now). Upon my return, I will move to my new area and begin to immerse myself in my new world. It has been a wild few weeks, but I know now that I have made the right decision and am eager to begin my new adventure in a company where I love to work.
Moral of my story . . . Don't be afraid of change. I was and now I see that I was being absurd. Embrace the change! It makes you stronger and rewards you with experiences that you otherwise would have never had the chance to enjoy. As I look back on the past month, all I regret is not embracing the change more quickly and maybe even going for it earlier!
"Continuity gives us roots; change gives us branches, letting us stretch and grow and reach new heights." ~Pauline R. Kezer