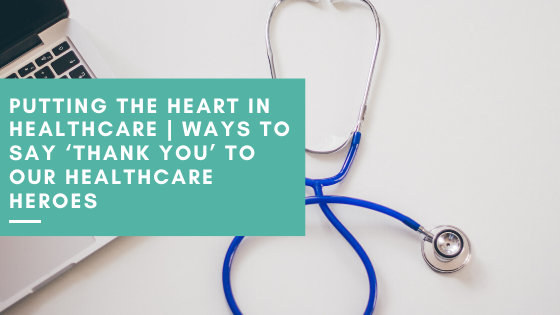 Ways to Say 'Thank You' to Our Healthcare Heroes
When you think of healthcare, what do you picture? Zach Braff in Scubs? Meredith Gray and McDreamy? Sam McCall a la General Hospital?
As we all (truly) know, healthcare is a lot more than training, a degree, and a stethoscope or scrubs. Healthcare is a work of the heart, and it's all about putting the care of others first.
As far as we're concerned, our job when it comes to the healthcare industry is to say a resounding thank you! We admire and acknowledge the hard work, dedication and commitment that these brave men and women share in their workplace every day.
With COVID-19 happening right now, they deserve more than ever a BIG thank you! The endless hours and self-sacrifice each healthcare team member has put in these past few months is something we can't thank them enough for – but it's worth trying!
Here are a few upcoming dates we can mark our calendars to make sure we're celebrating our healthcare heroes.
National Doctor's Day | March 30
National Nurses Week | May 6-12
National Hospital Week | May 8-14
Luckily for us, there's a whole healthcare appreciation holiday where we get to focus on thanking the industry where heart comes first.
March 30th is National Doctor's Day – and it's a great day to celebrate the doctors, nurses, and healthcare staff that has to wash their hands more than anyone else on the planet.
Here are 5 of our favorite ways to send a little thank you to people who make a big difference!
Top 5 Ways to Show Appreciation to the Healthcare Industry
1. Pen-ny For Your Thoughts?
Most of our friends in the healthcare industry don't spend a ton of time seated at a desk. They need to be on the go, keeping track of their patients and making a difference. Send them a message of appreciation with these motivational pens! Cute enough to feature on your scrubs and colorful enough that you won't lose them on a busy day.
2. Clear Eyes, Fresh Breath, Can't Lose.
Talk about a breath of fresh air: these little mints pack a punch! Easily stowed in a pocket, clipped onto a lanyard, or thrown in your bag, these travel-friendly mints keep you smiling!
3. Tote-ally awesome
Send them a tote gift set and you'll be their new favorite. After all, there's no such thing as too many bags, and we're pretty sure that caramel corn is the secret to life. Say thank you with a snack and you've got appreciation in the bag!
4. That's a wrap!
Send a fully customizable thank you with these travel tumblers! With a 360 wrap, you can create your own pattern, feature their name, your logo, their pet, you name it! As we all know, hydration is the name of the game, so keep them on their toes with this custom tumbler!
5. Speak up: they're awesome!
When the going gets tough, the tough get…dancing! While this might be more of an at-home gift, this portable speaker will really make an impact! Jam out to your favorite 80's song, listen to a podcast, or blast some Enya – we won't judge! Bluetooth pairable with most mobile devices.
On a budget? When in doubt, write it out! Our e-praise is a free and fun way to share a little note of encouragement to your team. Browse the catalog of sentiments and styles HERE.
No matter what direction you choose, the power of positivity always packs a punch. So shout it from the rooftops, ship it to their office, or simply send them a note – but let's give a big thank you to the hardworking healthcare heroes!
For more ideas and inspiration on how to #makeworkhappy follow our blog!
Want more content like this? Subscribe to our emails!