We all know that small acts of kindness can make a big difference. Whether it's a stranger holding open a door or a friend treating you to a cup of coffee, an act of kindness can change your perspective and your mood.
February 11-17, 2013 is the official Random Acts of Kindness Week, and it's a great time to encourage team building and camaraderie in the office. Celebrate the week (or month, or year!) of kindness with your team by equipping them with information and ideas for both in and out of the office.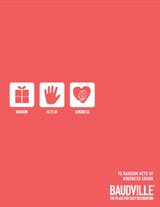 Educate your team that Random Acts of Kindness Week is coming up, and you hope everyone will participate. Fuel the group with ideas from our free 75 Random Acts of Kindness eBook and the Baudville Pinterest board. Post the ideas on a public bulletin board or print them out and keep them in a bowl. Encourage teammates to select a kindness idea and do it! At your next team meeting, ask individuals to share their Random Acts of Kindness experience.
We spend a lot of our time at work, and sometimes it feels like we see our coworkers more than our families! Make your work environment friendly, welcoming, and safe for all your employees by creating a place where acts of kindness are the norm, not the exception. A great work environment attracts and retains great talent, making your organization stronger and more successful.

As your team begins to practice acts of kindness around the office, you'll notice the effect kindness has on your culture and your team's attitudes. You may even decide to promote acts of kindness year round!

Do you have a great Random Act of Kindness story? Tell us about it!
-----------------------
Cori is Baudville's in-house Recognitionista (she's officially a Certified Recognition Professional, too) and a member of the Millennial generation. Get her employee recognition tips and special discounts by liking
Baudville on Facebook
.