Recognition from one Baudville veteran to another = Priceless.
We caught Bruce, our Director of CRM, in recognition action! He has been at the 'ville since 1993 (yeah, that's a long time) and can be known around here as "maloney", is always saying hello to everyone with a smile on his face, and truly enjoys the people he works with. Melissa who has been here since 2002, who does a lot to keep this ship running, was his target in this recognition moment...
What did the person do to receive the recognition?
Melissa works so hard every day, and she always gets me the reports I need right when I need them. I don't think many people realize how much Melissa does here at the company, but things would definitely not run as smoothly without her leadership. Not only that, but she truly cares about people. She makes sure that you never leave her office without experiencing her friendship.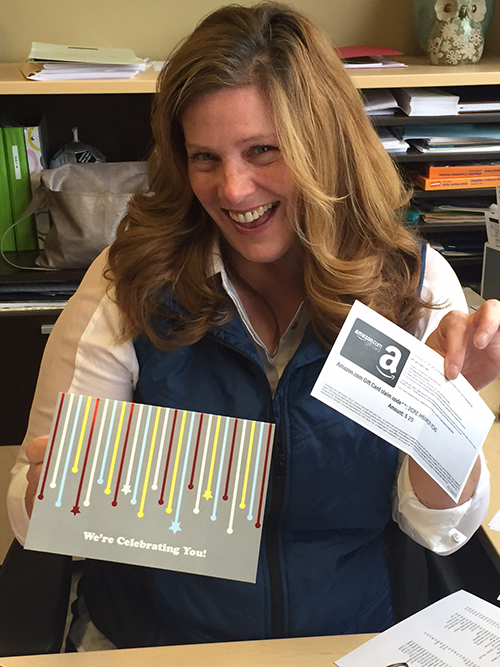 What did you do to recognize them?
I got an Amazon card from her (Melissa is the keeper of the gift cards) and said it was for someone else. Then I took one of our greeting cards and wrote a note about how much I appreciated Melissa and how special a person I thought she was. I put the Amazon card inside and brought it right back to Melissa.

How did you determine what you were going to do for them?
Melissa is always giving gift cards out to other people for their recognition needs, and I just thought it would be cool and funny to get one from her, telling her it was for another person, and then turn right around and give it back to her.

When did recognize them (time span after event)?
That's the thing… some people give their best every single day for Baudville, and Melissa is one of them. There is not just one specific event that drives a recognition opportunity for someone like that. They are just a special type of person who is so valuable to our work family that they deserve Daily Recognition. That's a lofty goal, but it's easier to reach than most people think. It doesn't have to be expensive gifts or awards. Just take the time to sincerely ask a co-worker how she is doing, or leave them a little note on their desk to thank them for something, or take someone to lunch and get to know them better – there are SO many easy ways to show someone they are important. If everyone took the time to do these simple things a few times each week, you can just imagine how much healthier and happier your workplace would be!

A little "Maloney" bonus...
When I walked in to give Melissa her card, she figured I needed another gift card and was already reaching for one. But then I gave the card to her, and when she read it her smile was priceless. It seemed to really make her day. And… it made ME feel good, too. I was smiling all the way back to my office.


---
Kimberly is the Baudville's Digital Marketing Manager and star of our online product videos. She applies her knowledge of the web to create the ultimate online experience for Baudville customers.