I recently read Randy Pausch's book, The Last Lecture. For those of you who are unfamiliar with Randy Pausch, it's no big surprise. Up until fall 2007, Randy was simply a college professor with a young family. It was his actions after he was diagnosed with terminal pancreatic cancer that made him known to the world. Even two years later, his name is still, unfortunately, relatively unknown to many.
As his farewell at Carnegie Mellon, Randy delivered a last lecture which was video taped and later posted on You Tube. His lecture, appropriately titled "Really Achieving your Childhood Dreams," has been viewed over 10 million times on YouTube and was later made into a book.
Randy delivered the lecture not only to inspire colleagues and students, but as a way to leave life lessons that he wouldn't be able to personally deliver to his three young children.
Although I set out to read The Last Lecture for personal enjoyment, I soon discovered meaningful recognition lessons weaved throughout Randy's tales. As a college professor, Randy discovered recognition and incentives to be a powerful way to "force" cooperation from peers.
In one chapter of his book, he writes about sending a box of thin mint cookies along with research papers to be reviewed to colleagues. He would include a note that the cookies were the reward for completing the task, and he sent friendly reminders, "have you had your cookies yet?" to check on their progress.
Randy also talked about the value of the thank you note. Even as a technology guru, Randy encouraged us to continue writing hand written thank you notes.
What Randy said during his lecture and in his book is neither a secret nor a complicated research discovery. What he conveys is simple: recognition matters; it makes people feel better about themselves, and you'll feel better for giving it.
Ultimately, Randy found recognition to be a piece of achieving your childhood dreams. So what are you waiting for?
Randy delivering his last lecture, September 2007.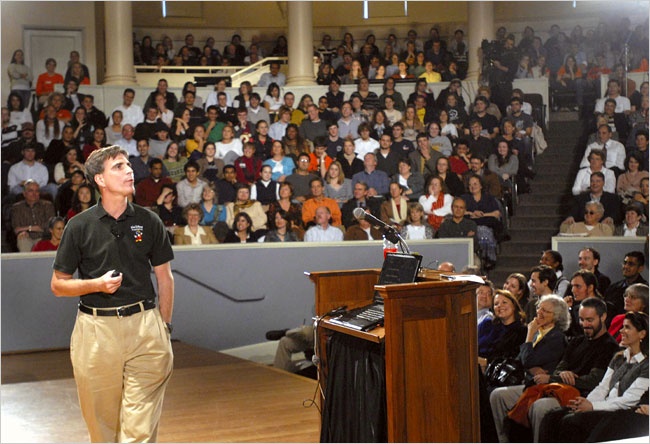 -------------------------------------
Cori is a Certified Recognition Professional at Baudville and a member of the Millennial generation. In addition to writing for the Baudville blog, she's taking on the task of flooding the Twitter world with positive mojo. Find out more - and join her cause! - at www.Twitter.com/Baudville and by using the hash tag #positivemojo.