A couple of months ago, I created an internal task force to help me stay informed of all the business-related happenings that occur outside of my rather small sphere of influence. The group consists of Andrea and Tiffany from our sales suite (who talk to multitudes of customers every day), Krista and Jenny from our web team (who interact on social media and monitor trends on our site), Denise from our acquisition team (who helps us reach new customers), and Cindy, our HR Manager (who does way too much for me to put inside parentheses). And I'm there, too, but I try to just be a fly on the wall while they roundtable about what's going on in their worlds. It's a great gig for me, actually!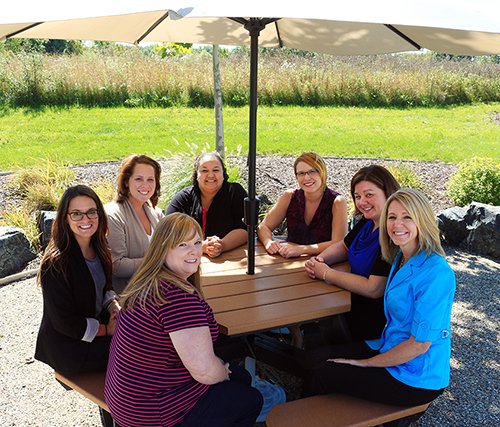 One topic that came up in our first meeting was from Cindy. She had just returned from a conference on recruiting and attracting top talent and her head was filled with all of her learnings. One of her big takeaways was that she needs to rethink the way she interacts on social media (particularly LinkedIn), and not just be a "job spammer." Gasp! Few people want to be associated with spam—canned or virtual!
What job spamming means in her world is only using social media for posting open positions and not to actually engage with her connections and her "audience." The leader of the session on this topic (Craig Fisher of Talent Net) talked a lot about creating your online personality and that, to do so, you need to give (share) more than you ask (post jobs).
Why? Well…particularly when it comes to recruiting, if you create interest in yourself first (by sharing), you'll pique your followers' curiosity and they'll want know more about you. If these followers—now potential hires—are intrigued by you and get a sense that they might actually like you, they're much more likely to seek out the company you work for. While all of this is happening, you're also setting the expectation for what working at your company would be like, based on the way you share and the kinds of information you put out there. In essence, you're giving your audience a peek at your culture before they even think about applying for one of your open positions. And, we all know how important a good cultural fit is!
Whether you're in HR or a manager who's hiring, this is good advice to consider. And, since Craig was nice enough to share his expertise with Cindy, I thought I'd share his blog with you: check out fishdogs.com to get more tips & ideas!
--------------------------
Allison is currently living out the elaborate fantasy she described to her now-former staff and colleagues in early 2001. With a hearty dose of courage and absolutely no plan of action, she abruptly left her middle-management job to become a writer—and today she is doing just that in her role as Baudville's Senior Content Writer. She's here to tell you everything she's learned in her 20-years+ professional life, plus a lot more. She's wordy like that!