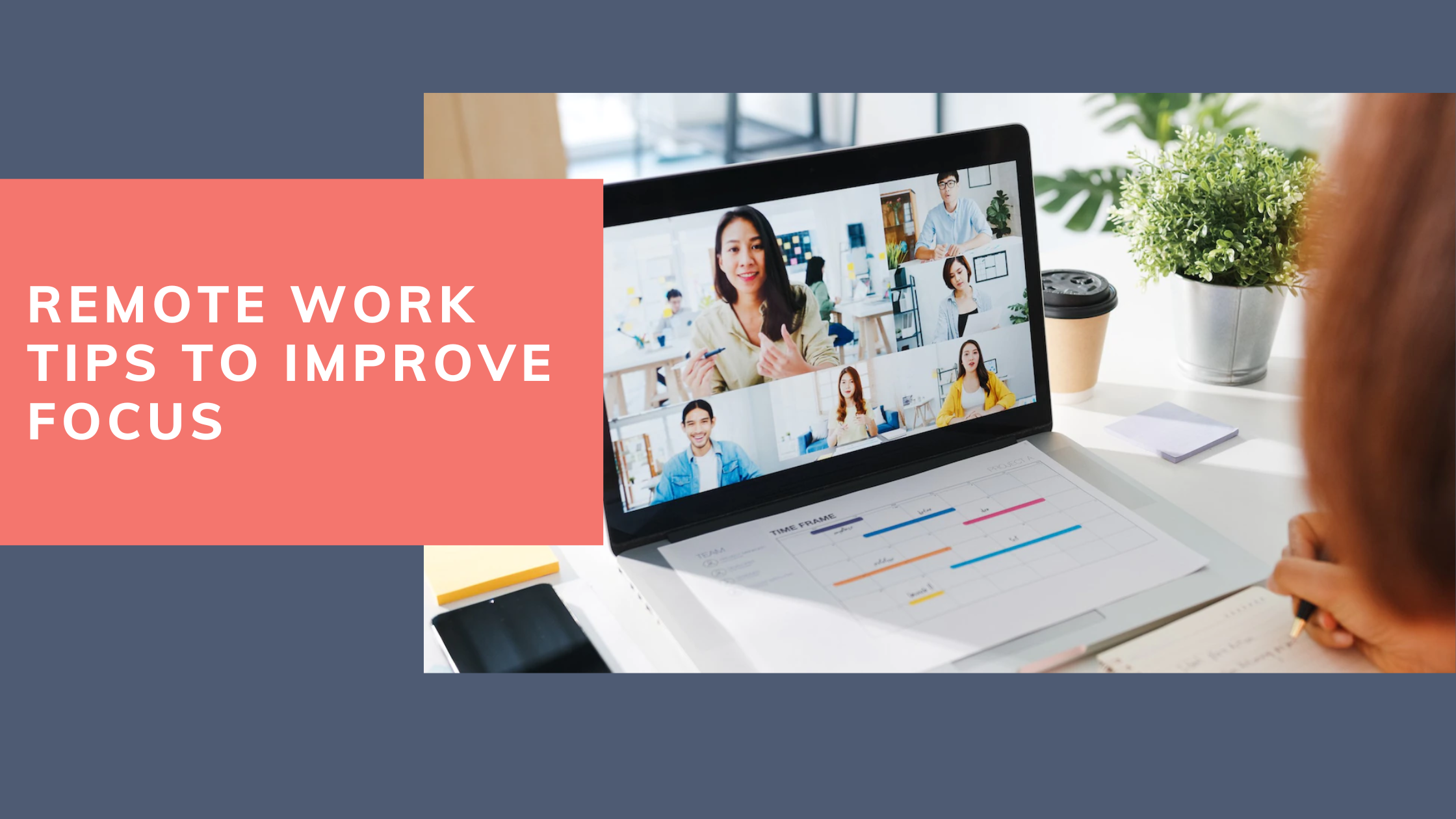 Remote Work Tips to Improve Focus
Today's work environment is a mix of strictly in the office, hybrid (partial at home and partial in office), and 1% work from home. Many studies have been made weighing the pros and cons of working from home. In these studies, they mention that productivity takes a hit when employees work from home due to natural distractions in a comfortable environment, however:
Several studies over the past few months show productivity while working remotely from home is better than working in an office setting. On average, those who work from home spend 10 minutes less a day being unproductive, work one more day a week, and are 47% more productive. (Source)
The key to maintaining a high level of productivity and not experiencing burnout is being able to strike a healthy balance between our professional and personal lives. This has always been important, but it becomes increasingly difficult to establish a clear line between the two when your office is set up at home.
Ultimately, the best way to work remotely depends on your personal preferences. However, many aspects of working from home are more or less universal. Here are five tips to help your employees improve their focus ultimately generating higher quality work.
1.) Have a dedicated work space: A quiet, distraction-free environment to work in is key to productive home working. Set up your workstation in a space away from the busyness of day-to-day home life. Aim to keep your desk as clutter-free as possible – as they say, 'tidy space, tidy mind.' A cluttered desk can feel chaotic. Try our Custom: Cleanly Desktop Vacuum Cleaner to tackle any mess.
2.) Dress for success: Wear what's comfortable for you. But having a morning routine — meaning brushing your teeth and changing out of your pajamas into work-ready attire will help in keeping you focused, on task, and present to tackle any problem.
3.) Avoid procrastination: If you think it's tempting to procrastinate at the office, it's even worse at home, where there are more distractions. Never start working until all the distractions have been removed from your workstation at home. Turn off the television, put your phone in silent mode and stay far away from it, and turn off email and social media notifications on your computer. Also, be sure to have a journal and pen ready to jot down your to-do list for the day and any thoughts you need to get out.
4.) Get face time with your team: Even those who work from home solo still sometimes have a team, and interacting with them as much as possible is key. Consistently touching base with co-workers via Skype, Zoom, or Teams is crucial in feeling connected to the company culture. "You don't want to be out of sight, out of mind when working remotely. Take a proactive approach to schedule time with your manager—even if it's just a 15- or 30-minute weekly call to check in." (source)
​​​​5.) Know when to clock out: Working remotely can negatively impact well-being and professional satisfaction in novel and surprising ways. Although you could work all hours without any breaks, resist the urge to be accessible 24/7. It is important that you, as mentioned previously remove distractions and maintain your focus during your normal work hours. These guardrails and important habits will be crucial in maintaining the balance that is crucial to avoiding burnout.
Without a doubt, if you are exclusively a work-from-home employee, maintaining your focus and avoiding overwork and burnout is your #1 challenge. You do not have water cooler moments or a quick touch base with your direct report. You have to find ways to self-manage your work. Carve out weekly or 2 days a week (beginning and end) in your calendar for a zoom call face to face with your managers and co-workers to ensure you still have a sense of engagement.
It has been noted that if a manager does not trust their employees to work from home, it leaves their team members feeling resentful and unmotivated. Try these tips to build that trust. Empower your team to make decisions that are best for them, your company, and ultimately your shared success.
For more articles relating to working from home visit:
Interested in chatting with your rep? Find your account manager here - and they'll touch base with you to find a good time to discuss your vision!
We've had the privilege of working with some amazing organizations to develop a branded, special experience for their team. We appreciate their trust in finding the perfect fit, and we're so excited to highlight how they turned out!
Whether you're just dipping your toe into the custom experience, or you're an old hand at it, we know that together we can pair up to make an amazing impact for you and your organization!
Want more content like this? Subscribe to our emails!