Planning for your company's holiday party can be a bit daunting, even when you've done it a bunch of times. That's why we've put together this handy dandy checklist to keep your party planning on track!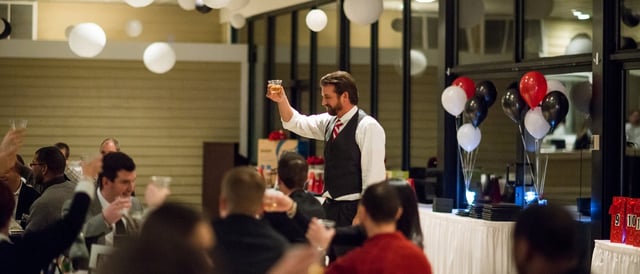 Feel free to print it and check it off as you go:
Company Holiday Party Planning Checklist
ASAP
Choose your party theme (White Christmas, Winter Wonderland, Grinch, etc.)
Finalize the date and time
Book a venue if you're hosting it offsite
Decide if employees are allowed to bring guests
Decide how you'll spread the word (email, paper invites, etc.) and send them out
Finalize your budget
Begin planning decorations
Four Weeks Before
Collect all RSVPs and finalize guest list
Put together a timeline / agenda
Create the menu or work with a caterer
Create the drink menu (alcoholic, nonalcoholic, etc.)
Decide on employee gifts (we have ideas!) and order them
Decide whether or not you'll give out any awards or special recognition (Our advice: do it! Be sure to check out our trophies and awards!)
Three Weeks Before
Put together your shopping list
Decide how food will be set up / served (Do you need to provide tablecloths, napkins, silverware, or serving pieces? Plan for those!)
Decide on décor (flowers, balloons, linens, etc.)
Gather the necessary tables and chairs
Two Weeks Before
Plan your party activity and shop for necessary supplies or prizes
Create a hashtag so you can capture all event photos
Decide who will speak at your event. Recruit a presenter for your awards and recognition.
Prepare seating chart (if you're planning to have one)
Confirm with vendors
Check equipment and lighting
Week Of
Make sure you have all vendor contact numbers
Shop for the items on your shopping list and pick up any last-minute décor
Pick up rental items
Begin setup (if you have access to the venue)
Day Of
Finalize setup of décor, food, etc.
Have fun!
And there you have it . . . the ticket to a FABULOUS holiday party. Hope it's merry and bright!