With only a few more weeks left before Christmas and the New Year, it's time to make the most of your office holiday season. Here are our top 5 favorite holiday party ideas that will make your office jolly!

1. Hot Chocolate Bar – A Chocolaty Take on the Office Potluck
A few years back, we had a blast hosting an office cookie exchange where we all brought in our favorite holiday cookies and exchanged them for our coworkers' favs. This year, try an office Hot Chocol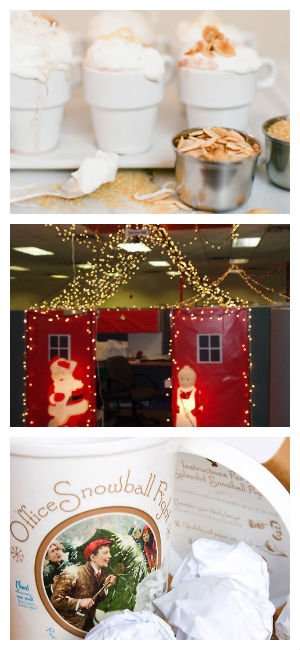 ate Bar. Have your coworkers bring in their favorite Hot Chocolate toppings or ingredients and discover a new way to enjoy a favorite treat!

2. Deck your office with holiday cheer!
Get your team in the holiday spirit by holding a holiday cubicle decorating contest. Begin by giving your team time to festively decorate their cubes with wrapping paper, tinsel, ornaments, or other holiday items. Then have everyone in the office go around and vote for their favorite cube. Announce the winner, and award them with a little gift, like our Holiday Twist Top Tumblers or a gift card!

3. The Office Snowball Fight
This year, the design firm Barker Gray came up with a cute idea for how to get their southern clients to enjoy a favored tradition of the North: a snowball fight. This also happens to be a fun idea for the office. Merrily wad up some paper, take aim, and throw. Although you don't have to worry about getting cold and wet, watch out for hazardous paper cuts!

4. Secret Santa or White Elephant Parties
Secret Santa and White Elephant gifting are two of my favorite holiday party ideas. White Elephant parties are especially fun. Have your team members bring in a crazy, funny, or strange wrapped gift to the office. Then play a fun game like Bunco or Bingo. The winner of the game will pick a present to unwrap and keep. For a little added fun and laughter, allow players the chance to swap presents with others.

5. Give Back
One of the best ways to celebrate the holidays is to give back to someone in your community. Take a day, or even a lunch break, to celebrate the holidays by serving others. One year, we decided to skip a lunch break and pack sandwiches for the Kids' Food Basket, whose mission is to fight childhood hunger. The amazing team experience we all had was a gift to ourselves as well.

--------------------------

Kendra is Baudville's Product Coordinator. Using her awesome powers of organization and research, she brings new and innovative products to our customers. She is a recent graduate and is ready to help with your recognition wants and needs. Watch out, because this young professional just touched down at Baudville!