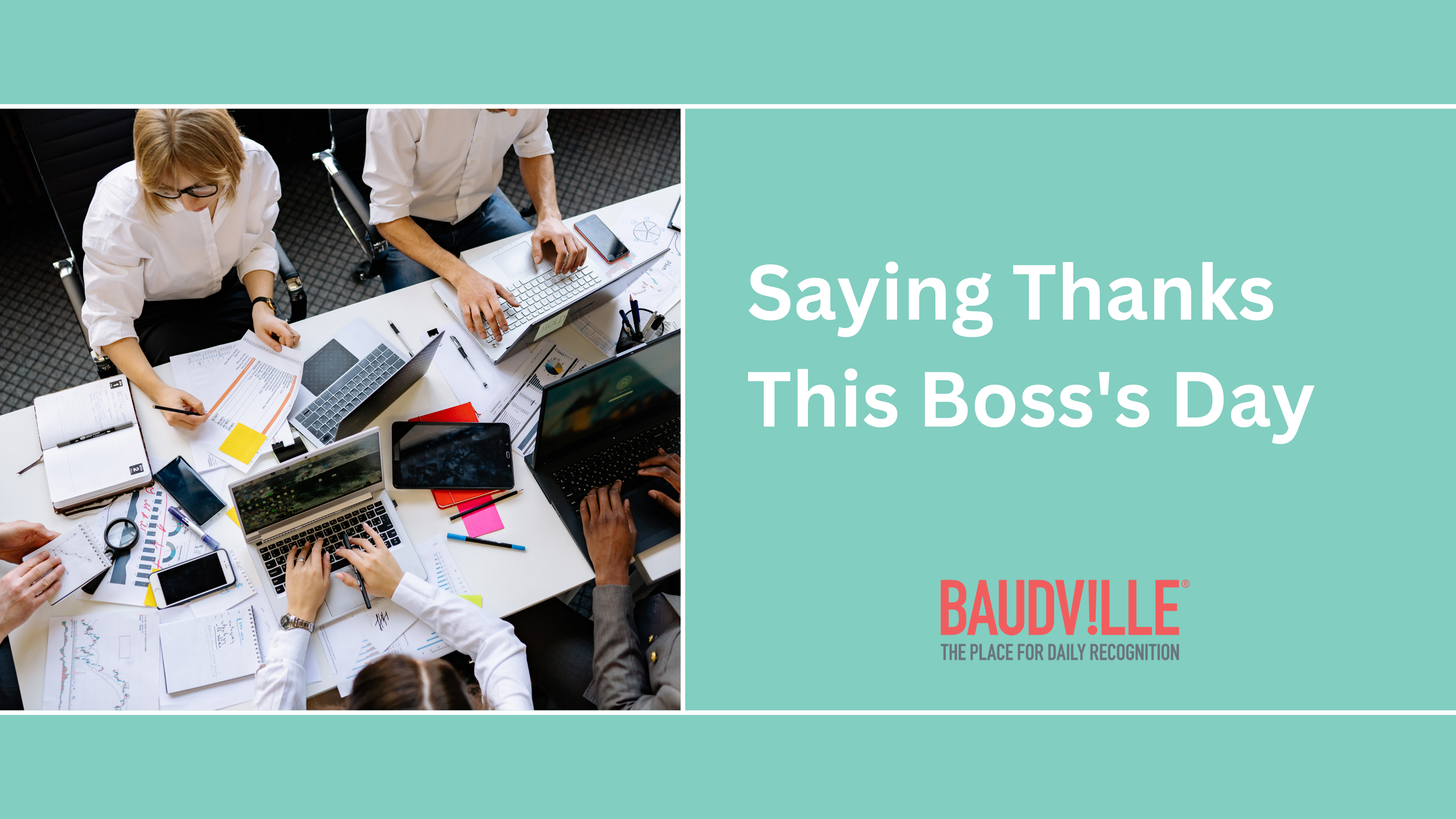 Written by Hannah Padnos, Baudville Director of Sales and Marketing
As we celebrate National Boss's Day, I think about what it means to be a boss, manager, or leader and their impact on our organization. We have all had those bosses that we would rather forget, and also those bosses that left a true mark on us. The ones that challenged, mentored, and coached us. Those that have helped shape who we are as professionals and people today.
Here at Baudville Brands, we are fortunate to have two exceptional leaders whom we would like to thank on this National Boss's Day: Lindsay Merdzinski, General Manager of Baudville, and Andrew Bishop, President of RecogNation -- Baudville's sister company, both of whom I have been fortunate enough to call my boss.
Lindsay Merdzinski, left, and Andrew Bishop, right, at a 2015 manager outing. Lindsay and Andrew always bring high energy and positivity at Baudville, inspiring their teams to do the same!
If it weren't for these two individuals, I wouldn't be where I am today. They both saw more in me than I ever imagined possible. From my first position as a Team Lead to the Director of Sales and Marketing, these two have played intricate parts in shaping the career that I love today.
This is what we celebrate today. The leaders, managers, and bosses that help us see and achieve what we didn't even know existed. Thank you, Lindsay and Andrew, for your guidance, support, and encouragement. You are both remarkable leaders, and we are lucky to have you!
"Leadership isn't about getting your own way. It's about helping others find theirs." – Roy T. Bennett
Did you miss Boss's Day? It's not too late to celebrate! Click here to shop last minute Boss's Day favorites.
Interested in chatting with your rep? Find your account manager here - and they'll touch base with you to find a good time to discuss your vision!
We've had the privilege of working with some amazing organizations to develop a branded, special experience for their team. We appreciate their trust in finding the perfect fit, and we're so excited to highlight how they turned out!
Whether you're just dipping your toe into the custom experience, or you're an old hand at it, we know that together we can pair up to make an amazing impact for you and your organization!
Want more content like this? Subscribe to our emails!