Any excuse for pie is a good one. That's why we like celebrating Pi Day here at the 'Ville.
In case you're unsure of what Pi Day is, here are some Pi Day facts. Pi Day is celebrated each year on March 14th because the number for Pi is 3.14159265358979628462643…. and it goes on and on.
If you're interested in perusing a list of the first 1 Billion digits of Pi, MIT put together one for everyone to enjoy here (be prepared to scroll, for like a long time).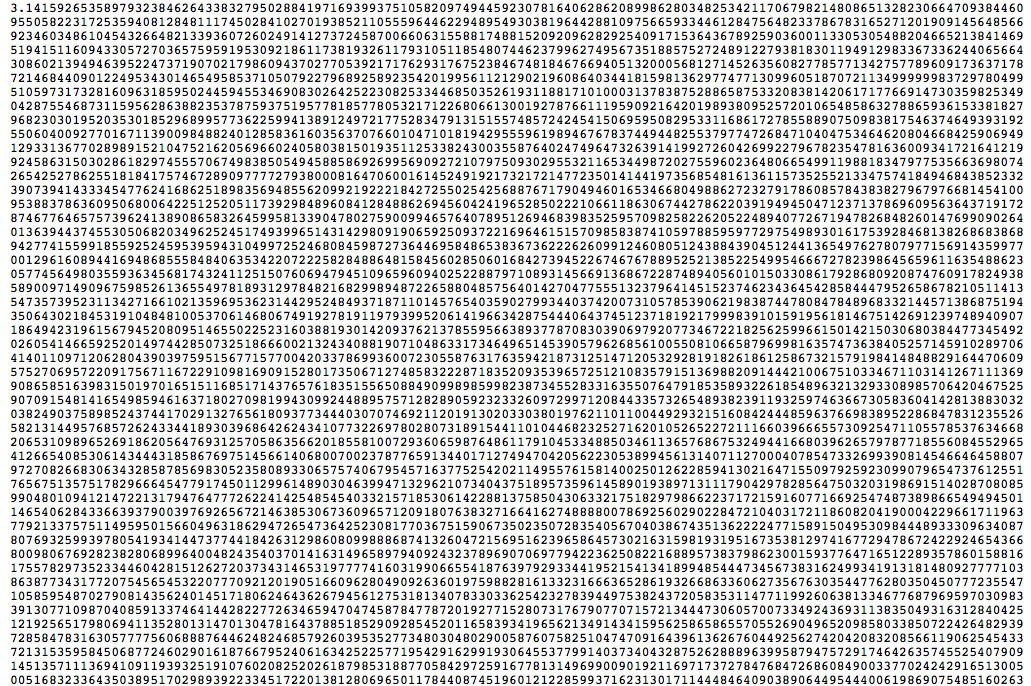 Image from New York Magazine
Pi is the number you get when you put circumference over diameter, and PiDay.org does a great job at going into the mathematics and history behind it.
Did you know that the Pi symbol (π) was first used in 1706?
There are more surprising facts about Pi like how the number 123456 doesn't appear anywhere in the first million digits of Pi.
Man, all this talking about math has made me hungry. Here are four pie recipes that you can enjoy on March 14th!
Pie Recipes to Celebrate Pi Day
From sweet to savory, to individual pies to pies you can share. These pie recipes are sure to please!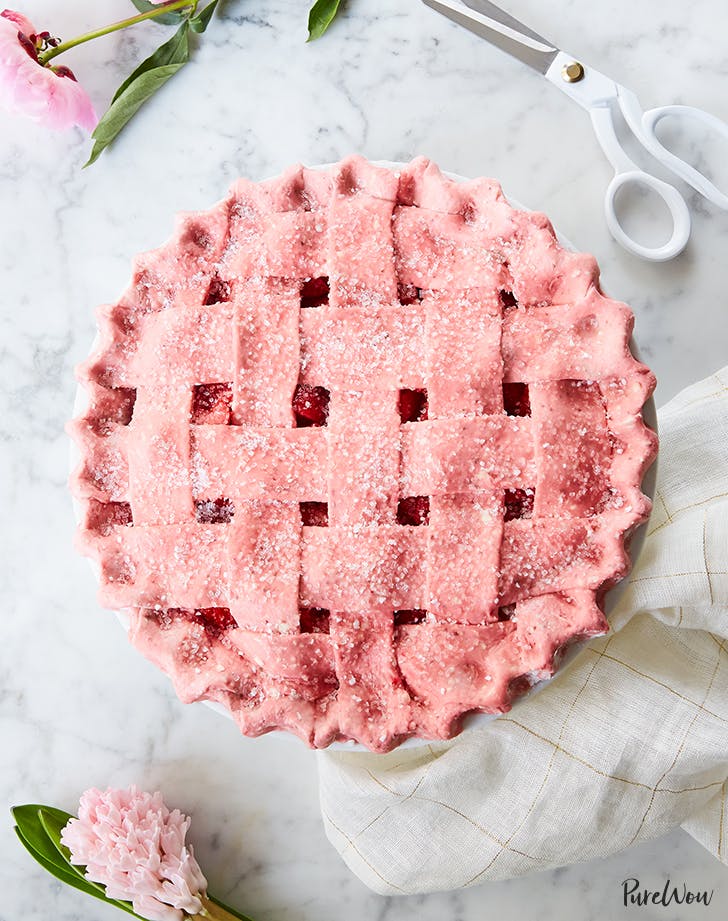 Image from Pure Wow
Yields: 10 servings
Ingredients
Pie Crust
½ cup freeze-dried strawberries
2 ½ cups all-purpose flour
2 sticks unsalted butter - cut into ½ inch-cubes
1 tbs granulated sugar
½ tsp fine sea salt
Filling and Garnish
5 cups fresh strawberries – halved
½ tsp pure vanilla extract
½ cup + 2 tbs granulated sugar
1 large egg white
1 tbs fresh lemon juice
Pinch of fine sea salt
1/3 cup cornstarch
Sanding sugar for garnish
Directions
1. MAKE THE PIE CRUST: In a food processor, pulse the strawberries and granulated sugar to a fine powder. Add the flour and salt and continue to process until well combined.
2. Add the butter and pulse until the mixture resembles small peas. Transfer to a medium bowl.
3. Make a well in the center of the flour and add ¼ cup ice water. Mix by hand until the mixture uniformly comes together but isn't sticky or tacky. If necessary, add more water 1 tablespoon at a time.
4. Divide the pie dough in half and form each half into a 1-inch-thick disk. Wrap each disk tightly in plastic wrap and chill for at least 30 minutes.
5. PREPARE THE FILLING: In a large bowl, toss together the strawberries, lemon juice, vanilla and salt.
6. In a small bowl, whisk together the granulated sugar and cornstarch. Add the mixture to the strawberries and toss well to combine.
7. In a small bowl, whisk together the egg white and 1 tablespoon water.
8. ASSEMBLE THE PIE: On a lightly floured surface, roll out one disk of the dough to ¼ inch thick. Transfer to a pie plate and trim the excess crust around the edge with scissors so that only ½ inch hangs over the edge of the pie plate.
9. Pour the filling into the pie crust. Transfer the whole thing to the refrigerator.
10. Roll out the second disk of dough to ¼ inch thick. Cut 1½-inch-wide strips from the dough. Use the strips to weave a lattice on top of the pie.
11. Chill the pie for 20 minutes while you preheat the oven to 425°F.
12. Brush the surface of the pie with egg wash and sprinkle with the sanding sugar. Bake until the crust begins to brown slightly and the filling is bubbly, 40 to 45 minutes.
13. Cool completely before slicing and serving.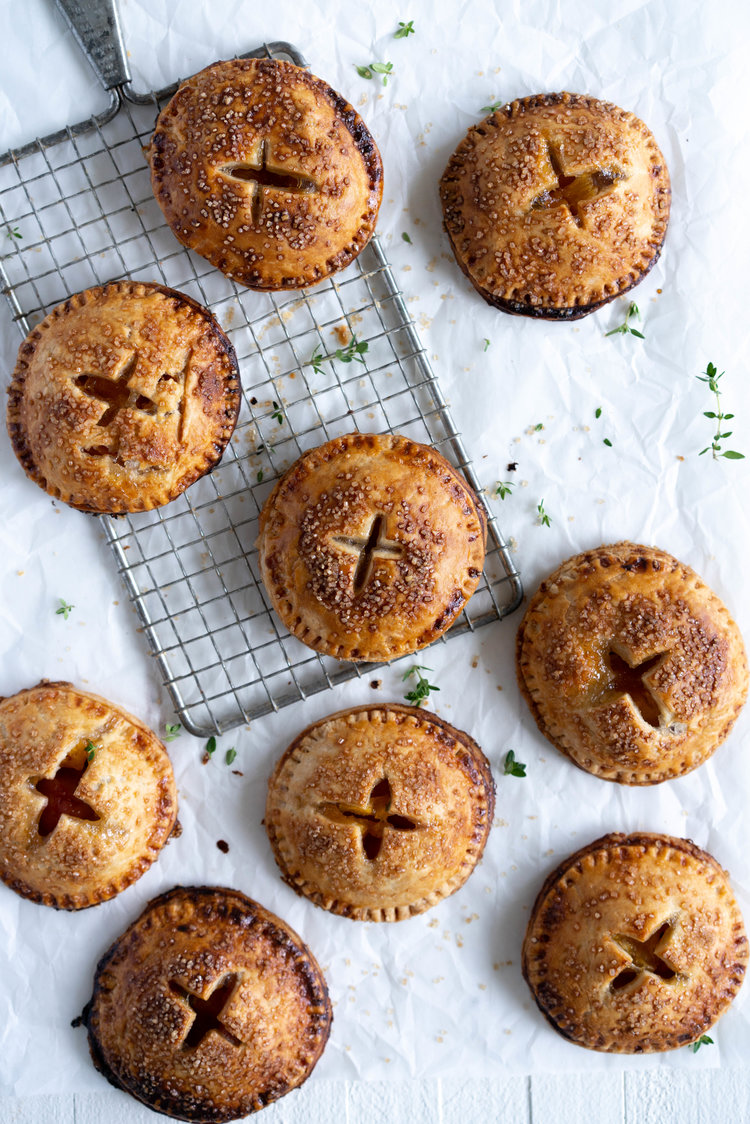 Image from Cloudy Kitchen
Yields: 12 hand pies
Ingredients
Pie Crust
2 ½ cups flour
2 tsp sugar
2 sticks cold butter - cut into cubes
1 cup cold water
1 cup ice
¼ cup apple cider vinegar
Pinch of salt
Filling and Garnish
2 cups ripe peaches – peeled and diced
2 tsp fresh thyme leaves – finely chopped
1 tsp vanilla bean paste
½ tsp salt
1/3 cup raw sugar
3 tbsp tapioca starch
Egg wash – 1 egg + 1 tbsp water
Raw sugar for sprinkling
Directions
PIE DOUGH
Place flour, sugar and salt into a large bowl. Cut butter into chunks and add to the flour. Toss lightly to coat. Working quickly, using a pastry blender or your fingers, cut the butter into the flour mixture until there are only pea-sized chunks left. You want a few lumps of butter remaining to keep the pastry nice and tender.
Combine ice, water and cider vinegar in a bowl. Sprinkle a few tablespoons of the ice water into the flour and butter mixture, and using a stiff spatula or your hands, mix in well. Continue adding water a tablespoon at a time (I normally need about 8-10 tbsp) until you have a dough that holds together well but is not too wet. Squeeze together with your fingertips to make a homogenous dough. Shape into two rectangles and wrap in plastic wrap. Rest in the fridge for at least two hours, or preferably overnight.
FILLING AND ASSEMBLY
Turn out the dough onto a lightly floured surface and roll into a rough rectangle that is approximately 1/8" (3mm) in thickness. Using a round cookie cutter (mine was 3 3/4" in diameter), cut circles of dough, and place them on a baking sheet lined with parchment paper. Repeat with the second piece of dough. Press scraps together, wrap in plastic wrap, and chill for 15-20 mins, before rolling out again and cutting more circles. Store cut-out circles in the fridge while you are waiting for the scrap dough to chill. You want to aim for approximately 24 circles.
In a medium bowl, combine the peaches, thyme leaves, vanilla bean paste and salt. Whisk the sugar and tapioca starch together in a small bowl then add to the filling mixture and stir well to combine.
Combine the egg and water together in a small bowl. Take one circle of dough, and place approximately 2 Tbsp of the filling in the center. Using a pastry brush, brush egg wash around the outside edge of the dough, and top with a second circle of dough, ensuring that the air is pressed out. Lightly seal with your fingers, then transfer to a baking sheet lined with parchment paper and use a fork to crimp around the edges to ensure a tight seal.
Repeat with the remaining dough circles and filling until you have 12 hand pies. Place the baking sheet in the freezer and freeze for 30-40 minutes, or until the dough becomes very firm. If you are planning on freezing them for a longer period, freeze solid then transfer to an airtight plastic bag.
While the pies are in the freezer, preheat the oven to 425˚f / 220˚c. Remove the pies from the freezer. Using a sharp knife, cut a cross in the top of each pie, brush with egg wash, and sprinkle with additional raw sugar. Bake for 25-35 minutes, until the pies are deeply golden brown and the juices are bubbling. Remove from the oven and allow to cool. Serve warm or at room temperature. Store leftovers wrapped in foil at room temperature. Reheat in the oven to help keep the pastry crispy.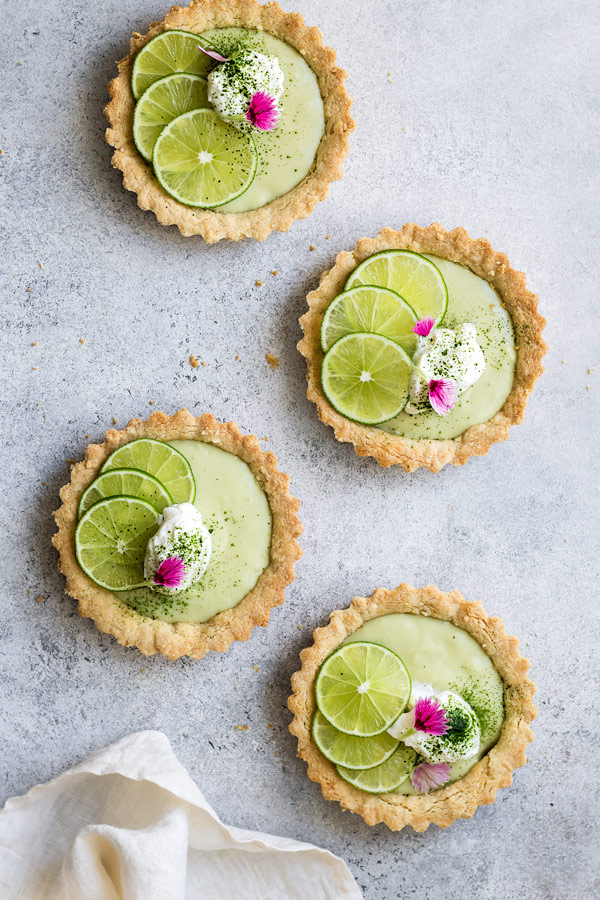 Image from Choosing Chia
Yields: 4 mini tarts
Ingredients
Pie Crust
2 cups almond flour
¼ cup refined coconut oil – melted
3 tbsp brown rice syrup
Pinch of salt
Filling
2 ½ tbsp cornstarch
1/3 cup fresh lime juice
1 can full-fat coconut milk – chilled in the fridge overnight
2 tbsp refined coconut oil
3 tbsp maple syrup
Zest of 1 lime
Directions
1. Preheat the oven to 350 degrees F.
2. In a large bowl, mix together the almond flour, coconut oil, brown rice syrup and pinch of salt until if forms a soft dough. You should be able to press the dough together between your fingers. (If it is too crumbly, add a bit more oil & brown rice syrup)
3. Spoon 1/4 of the mixture evenly between 4 mini tart pans (this kind) and press down into the pan with your fingers.
4. Bake for 10-12 minutes, or until lightly browned.
5. While the tarts cool, start preparing the filling.
6. Add cornstarch to the cup of lime juice and mix until dissolved.
7. Scoop out the cream from the top of the can of the coconut milk and add it to a small pan on medium-high heat along with the lime juice mixture, lime zest, coconut oil and maple syrup.
8. Stir the mixture until it begins to bubble. The mixture should thicken.
9. Reduce the heat to medium and keep stirring for 2-3 minutes. Then Remove from heat and set aside, allowing the mixture to cool down to room temperature. (You can also pop it in the fridge to speed up this process.)
10. Separate the tarts from the tart pans. (I like to set the tarts on a small cup, and gently pull down the sides of the pan. It will slide right off!)
11. Pour some of the key lime mixtures into each tart.
12. Let set in the fridge for at least 1 hour to firm up.
13. (Optional) Decorate with lime slices and whipped coconut cream.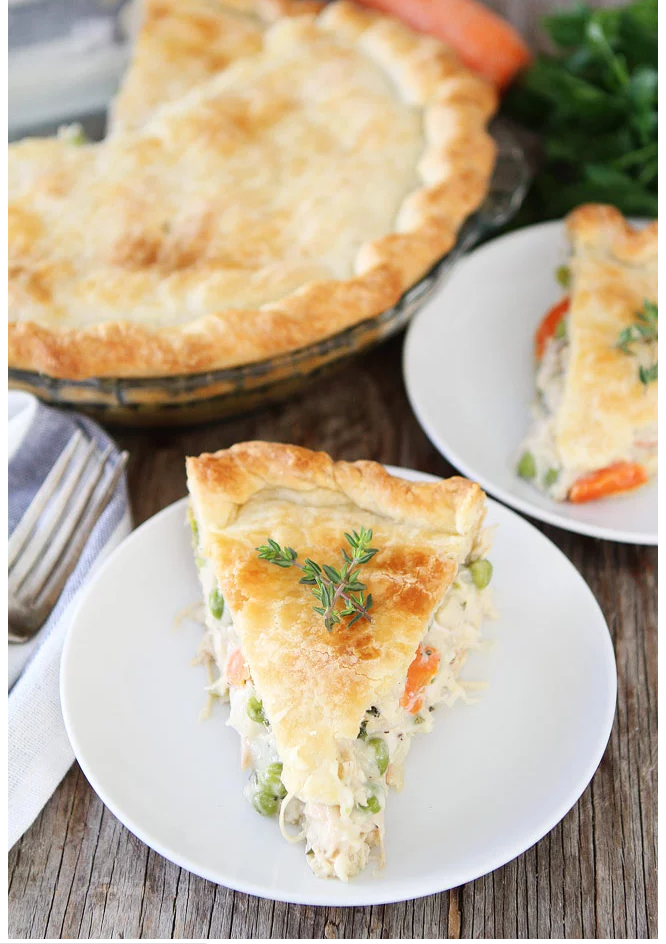 Image from Two Peas and Their Pod
Yields: 10 servings
Ingredients
Pie Crust
2 ½ cups all-purpose flour
1 tbsp sugar
1 tsp salt
1 cup cold unsalted butter – cut into cubes
½ cup cold buttermilk
1-2 tablespoons cold water
1 large egg – beaten for the egg wash
Filling
¼ cup unsalted butter
1/3 cup diced onion
2 medium carrots – sliced (about 1 cup)
1 stalk celery – sliced (about ½ cup)
2 cloves garlic – minced
1/3 cup all-purpose flour
1 ½ tsp minced fresh thyme
1 tbsp minced fresh Italian parsley
1 tsp salt
½ tsp black pepper
1 ¾ cup chicken broth
½ cup heavy cream
3 cups shredded chicken
1 cup frozen peas
Directions
First, make the pie crust. Combine the flour, sugar, and salt in a large bowl. Add the cubed butter and toss to coat. Dump the mixture out onto a clean surface and use a rolling pin to roll the butter into thin sheets, combining it with the flour. Use a bench scraper to scrape the rolling pin and to bring the mixture back into a pile as necessary. Continue until all of the butter is incorporated into the flour. Mixture will be very flaky. Return mixture to the bowl and place in the freezer for 15 minutes to chill the butter.
Remove from freezer and add the buttermilk. Use a spoon and then your hands to stir the mixture until it comes together into a ball. If mixture is too dry, add the water a tablespoon at a time. Divide the dough in two and flatten into disks. Wrap each disk in plastic wrap and chill in the fridge while you make the filling.
1. To make the filling, heat the butter over medium-high heat in a large skillet. Add the onions, carrots, celery, and garlic and cook until tender, stirring occasionally. Whisk in the flour, salt, black pepper, thyme, parsley, chicken broth, and heavy cream. Whisk until there are no flour lumps and then simmer over medium-low heat for 10 minutes or until sauce has thickened. Stir in the shredded chicken or turkey and frozen peas. Remove from heat and set aside while you roll out the pie dough.
2. Preheat oven to 400°F.
3. Remove the pie dough from the refrigerator. On a lightly floured surface, use a rolling pin to roll out the dough into a 12-inch circle. Dough should be about 1/4 inch thick. Transfer dough to a 9-inch pie pan. Pat with your fingers, making sure it is smooth. Trim the extra overhang of dough with a knife and discard. Fill pie with filling. Roll out the second disk of dough and carefully cover the pie. Trim the extra overhang off the sides. Seal the edges by crimping with a fork or your fingers. With sharp knife, slice a few small slits in the center of the top crust. Using a pastry brush, brush crust and edges with beaten egg.
4. Bake for 45 minutes, or until crust is golden brown. I use a pie crust shield to protect the edges from browning too much too soon. Cool for 10 minutes, cut into slices and serve.
5. Note-we love making this recipe when we have leftover rotisserie chicken or turkey. This pot pie freezes well. Cool completely and freeze for up to 1 month. You can freeze the whole pie or slices.
Pair these pies with a work-appropriate mocktail and you've got a great mid-day staff break in the making!
For more #workhappy ideas, follow our blog!