I've been engaging with a couple different teacher appreciation groups and pages on Facebook to find out what schools are doing for Teacher Appreciation Week this year. In one of those groups, a member shared an eBook by VolunteerSpot titled "The Greatest Gifts for Teachers." Since recognition gifts are Baudville's specialty, I had to check it out.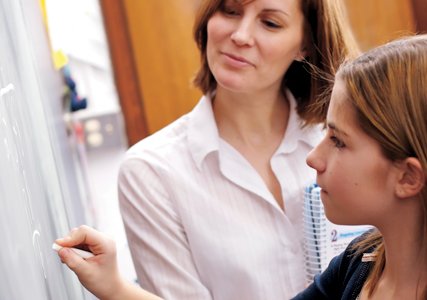 The eBook had a lot of good ideas to help parents and students recognize teachers year-round, and focused on teacher appreciation ideas that relate to a specific holiday or time of the year. But I found the most interesting part of the book to be the Teacher Gift Survey Results.
The number one item on the favorite teacher gift list is a personal note from students.
To support that, under the list of best teacher appreciation gifts is a short story from a 3rd grade teacher in Minneapolis, Minnesota, that I like so much I have to share it here.
"The best gift ever was a handwritten letter (on crinkled notebook paper) from a little girl. The note said all kinds of things about how she knows I love her and the class because I am caring and helpful, etc. It was perfect. Neither money nor chocolate could ever top that!"
When was the last time you wrote a thank you note to a teacher? Notice it doesn't say that the number one gift is a thank you note from *current* students. So that includes you too!
Teachers make a significant impact on our lives through their teaching, dedication and, most important, their caring spirits. This year during Teacher Appreciation Week, join us in writing a thank you note to one of your past teachers. I recommend getting out your favorite stationery and hand writing that thank you note—your teacher will love it!—but you can also use our free ecard system to send a special recognition card directly to their inbox.
Join us this May in making sure being a teacher is not a thankless job . . . because no matter which way you write it, appreciation matters!