A few weeks ago, a team of Baudvillians packed their bags and headed down to New Orleans to join thousands of HR Professionals from around the world for the SHRM 2017 Annual Conference & Expo. We bumped shoulders with employee engagement experts, retention professionals, and recruiting wizzes.
Taking notes from hundreds of industry leaders is like trying to drink from a firehose. But, after gathering our notes and decompressing our brains, we've boiled our learnings down to these three takeaways. Employee engagement requires flexibility and empathy. Attracting and retaining top talent is still hard. And applying best HR practices requires specificity and everyday action.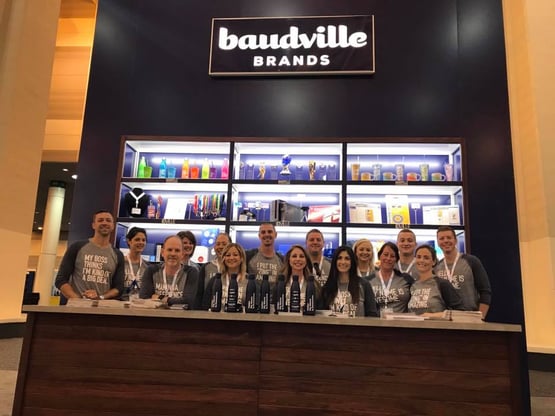 Employee engagement requires flexibility and empathy.
All the speakers at this year's SHRM event were downright fantastic. But we were super excited to hear from employee engagement expert and founder of The Employee Engagement Group, Bob Kelleher. A few years ago he released a video called "Who's Sinking Your Boat." It defined employee engagement as the mutual commitment between the company and the employee.
This year, he shared his latest video "Why is Your Boat Still Sinking."
Bob's key points during his presentation challenged us as employers and HR Managers to consider the whole person when forming employee engagement programs. Far too often, employers segment an employee's life and only provide programs or perks that take into consideration their life only as it pertains to work.
Is it reasonable in 2017 to expect employees to leave their "life" at the door? Bob Kelleher argues that we should be asking ourselves how we can assist our employees in having a better work life blend versus what we used to think of as a work life balance.
Thanks to technology, work follows us everywhere. If this is the new norm, it's not always practical to ask employees to check their home life at the door. The traditional work-life lines are being blurred.
Consider how you can help your employees attain a healthy blend of work and life. One of the best ways to promote this concept and positively impact employee engagement, is to talk to your management team about empathy. Showing empathy and being flexible with your team members is the best way to show that your organization cares about the people (note, I didn't say employees) who work there.
Attracting and retaining top talent is still hard.
After a few days of networking and attending educational seminars, one thing remained clear. Attracting and retaining the best talent remains a top priority and pain point for HR professionals in just about any organization.
The key to overcoming this common challenge is to refine your recruitment and retention strategies by breaking outside of your comfort zones. We all tend to stay in the safety of our organizational bubbles and can be resistant to change.
One of our favorite quotes from SHRM 2017 came from Ryan Estis. He said, "Your next breakthrough is one step outside of your comfort zone." This statement packs an honest punch, doesn't it? Tweaking your recruiting methods may take time and management buy-in. Be patient, earn trust and proceed with confidence.
Applying best practices requires specificity and everyday action.
Saying you want to lower your employee turnover rate and boost engagement rates across the board is all well and good, but such vague high-level goals will not lead to change. Take the time to think about the How, What, and Why as it applies to the HR and organizational goals your business chooses. Get granular, get specific, and translate these tactics into everyday action.
Were you at SHRM 2017? What takeaways did you find most impactful for your business? Tell us about it in the comments below, or email us at recognition@baudville.com!