What's a big moment at Baudville? Well, it can be a lot of things, but the biggest of big is winning either the management-nominated Inspire Award or the peer-nominated Luminary Award. They winners are always kept a surprise up until the time they're announced at our Year-End Party, which means this first one was quite the feat to pull off!
"As the Leader of the Spirit Committee, I have my hands in every detail of the Year-End Party. I request and receive nominations for two prestigious awards, which we present at the party. I typically tallythe results for both awards, but I was out of the office the day that the manager's voted on the winners of the Inspire Award. After the meeting, I received the names and asked an employee in our laser engraving department to secretly engrave their trophies so it would be a surprise when they were presented. Fast forward to the night of the event… I was pulling out the last trophy to present when the game suddenly changed. Brad Darooge, our CEO, was about to announce the final name when David Pezzato, our Sr. VP/CFO, came walking up to me carrying a trophy. I soon discovered that the trophy I had in my hands was an imposter and I had been duped. I was at a total loss for words as I was presented the Inspire Award. I received a standing ovation from all of the employees, which made the moment even more special. What an honor to be nominated and selected to receive one of our treasured, prestigious awards, a beautiful Crystalline Tower Trophy. David told me after the party that it was very challenging to pull off the surprise. It took a lot of masterminding and thought, but they created for me a wonderful lasting memory for years to come!"
- Cindy, HR Manager & Inspire Award Winner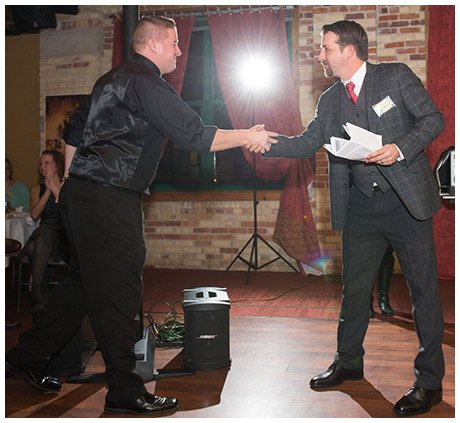 "When I first saw my name nominated for the Luminary Award, I was surprised. I take pride in my work, so it was a very good feeling to know that my peers took notice in what I do. In the days leading up to our Year-End Party, where the winner would be announced, I had been secretly crossing my fingers hoping to win; I've never been nominated for something like this before, much less win. When Brad, our CEO, announced my name it was very exciting, I practically jumped out of my chair to accept the award. It wasn't until Brad read a few quotes from the nominating supporters that I understood how humbling an experience this would be. Since that moment I have been inspired to do better. I now appreciate what I do can affect more than just myself and I feel like doing anything less than my best would be an insult to those who nominated me."
- Jason, IDville Inside Sales Rep& Luminary Award Winner
"It happened in slow motion, just like you see in the movies. Brad was reading about someone who'd accomplished all of these fabulous things that year and then it clicked that he was talking about me! I was filled with so many emotions: excitement and delight to extreme appreciation. It took a lot not to cry! It meant so much that my work was being recognized by others in the company, not just in my own department. I've always been proud of the work that I do, but after winning that award, it took my pride and my self esteem to a whole different level."
- Andrea, Recognition Specialist & Inspire Award Winner
Wow, that's a lot of mileage to get out of one moment! Are you celebrating big moments at your organization? If you are: woo-hoo for you! If not, come chat with us at SHRM, or read these helpful tips: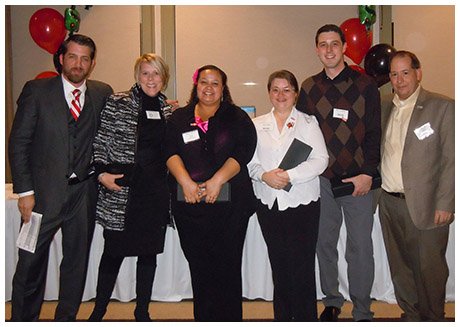 --------------------------

Allison is a self-proclaimed Copywriting Diva and has the certificate to prove it! She's been writing for Baudville for five years and has worked in a variety of business settings for 20 years. Before becoming a professional writer 13 years ago, Allison worked as a department manager where she used Baudville products to motivate her team. She's what we call a true believer!