We're back, and SHRM 2009 has officially come to a close! The entire team feels the show was a complete success. We could not have received more positive feedback from attendees about our new products and marketing. Here are a few highlights:
Our delicious hook on Sunday night drew attendees to our booth with the sweet smell of chocolate, white almond and butter cream. The gourmet cupcakes were a huge hit among the attendees! In fact, they were so popular that no one on the Baudville team had a chance to sample them! All 500 cupcakes were devoured in a mere 40 minutes. Those HR professionals are hungry people!
We've always known our customers to be Stupendous people, and now they have the tote bag to prove it! Our "I'm with Stupendous" bags generated quite a buzz around the tradeshow floor for their high quality material and witty line. The bag is one of 25 brand new products in our Exclamations theme. If you like the bag, you'll love our Pocket Praise cards and other themed gifts.
Our sassy t-shirts were popular among attendees. Which saying is your favorite? Write us a comment with your pick. Any new ideas? Let us know!
My boss thinks I'm kind of a big deal.

File me under fantastic.

Does my positive mojo go with these shoes?

Awesome is my favorite accessory.

Medium t-shirt, x-large super star.

I've got a serious case of the positives.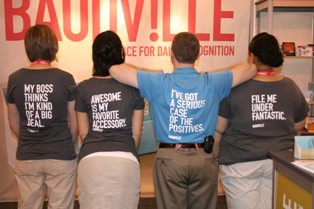 Our favorite part of the conference was the positive feedback from attendees about our new products. Throughout the development process, our excitement for the new products has grown. It was thrilling to hear attendees began to echo our sentiments of praise for the new designs, sentiments and products. Attendees found the new products to be cute, clever affordable and easy to use. We hope they'll soon start using the new products and put day-to-day recognition to work for their organizations.
A big thank you to everyone who visited the Baudville booth and experienced the place for daily recognition. We hope you're as excited about the new Baudville and our new products as we are! Remember our launch has only just begun – the first batch of new catalogs hit mailboxes July 13th!