Yesterday, I read a press release announcing that the Best Western River North Hotel in Chicago is using social media to recognize one of its star employees, Wallace. Wallace has recently been nominated for the Illinois Hotel & Lodging Association's Star of the Industry Award, and a Facebook page was created to support Wallace (and maybe influence the judging!).
If having a Facebook page dedicated to him wasn't a big enough compliment, customers quickly filled up the wall with their favorite Wallace stories. Some of the stories were from hotel stays two years ago! Other repeat customers confessed that they stay at the hotel because they want to use Wallace's extensive knowledge of the city and ability to get the best deals.
I wasn't even aware of this hotel before, but the stories of the exemplary service and great city knowledge made me want to plan a visit to Chicago!
Since many organizations are still becoming familiar with social media as a communication tool, the Best Western River North Hotel is certainly a leader in the employee recognition arena. Other than the standard "happy anniversary" or "happy birthday" tweets on Twitter, employee recognition hasn't made it on many social media platforms - yet.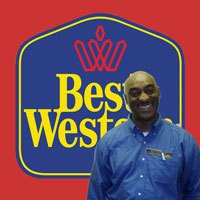 Wallace is a great example of the impact you could have when you praise your employees on social media. Combining social media and employee recognition has three powerful effects:
1. It makes the super star feel super proud….and committed.
The Facebook page is a great way to give Wallace public recognition that reaches beyond the walls of the hotel. Not only is Wallace being recognized in front of his co-workers, but customers, friends and family can all be a part of his accomplishment. Do you think an employee who's treated this grandly is going to think about leaving? No way!
2. It motivates others.
Didn't those stories about Wallace make you feel good? Wouldn't it be nice if someone wrote those nice things about you? I'm sure the employees at Best Western River North Hotel are already inspired by Wallace's performances, but I think they'll have a little extra spring in their step after they see the Facebook page.
3. It makes your company look good.
Visitors to Wallace's page will look around, read a few customer stories, and decide where they'll stay on their next Chicago trip. Not only does the company treat its employees well, but those employees create a fantastic experience for the customers.
While many companies aren't using social media to proclaim their employees' good works yet, I predict we'll start to see much more of it in the coming months, thanks to Wallace.
----------------------
Cori is Baudville's in-house Recognitionista (she's officially a Certified Recognition Professional, too) and a member of the Millennial generation. Get her employee recognition tips and special discounts by liking Baudville on Facebook.