At Baudville, we're fortunate enough to be hiring right now, which means we have all kinds of new faces walking our hallways. Whenever we have new employees on board, we always take a few minutes at our all-staff meetings to introduce them to everyone. There's a fair amount of hoopla at these meetings, and I think a lot of our newbies leave them with their hair blown back a little. (I still remember my first one!) But, we only have these meetings periodically, so sometimes new team members can be here for weeks or even a few months before they get that big shebang welcome.

This got me wondering… about our new hires' impressions of us and also about what we, as a company or as individuals, do to make people feel welcome here on a day-to-day basis. So, I asked them!

Terry told me: "The first time I met everyone here at Baudville, I was astounded with how nice everyone was to me. I have worked at companies previously where you had to 'prove' yourself in order to fit in. I am proud to be working at a company that chooses to lead by example."

Mikki responded with: "When I was asked to join the Baudville team I not only thanked my supervisors for the opportunity; but also thanked myself for pushing towards a brighter future in my career. I have had more than just a welcome; I feel a close family already beginning for me here."

Andrew gave his two cents: "I walked in and saw a ping pong table. I said to another person, 'I want to play.' And now I play just about every day at lunch! It reminded me of a time when I was researching Google's work environment, and I said to myself, 'I want to work at a place like Google' … and now I'm here!"

Here's what Midori said: "When I came on board with Baudville, they gave me a welcome gift in the Making the Difference theme. It made a difference to me to see employees thanking one another for helping them, or giving a Shout Out for a job well done, and to actually see management foster an environment where positivity is not only nurtured, but shared."

And, finally, a word from John: "On my first day I was presented with some great Welcome to the Team gifts, which I loved. Come to find out we sell these each and every day. What a great way to welcome someone to your team."

Well, all right! I'm sure glad to hear that everyone is doing their part. If you want the same enthusiasm from your new hires, simply:

Be helpful and friendly. Sounds obvious; but how easily do we forget, once we're settled in and comfortable, what it's like to be the new person? Encourage everyone to greet new people and introduce themselves. Take it another step by asking how it's going and if they need any help.

Include and involve. For us, that sometimes means inviting new employees to a game of ping pong; but it could also be to lunch, or to share their ideas in a meeting. Make them feel like they're a part of your team – and they will be.

Get off on the right foot. Present new employees with a welcome gift filled with handy desk items they can put to use right away. This could be a Theme Gift Set, a Celebration Gift Set, or one of our new-ish Welcome Kits.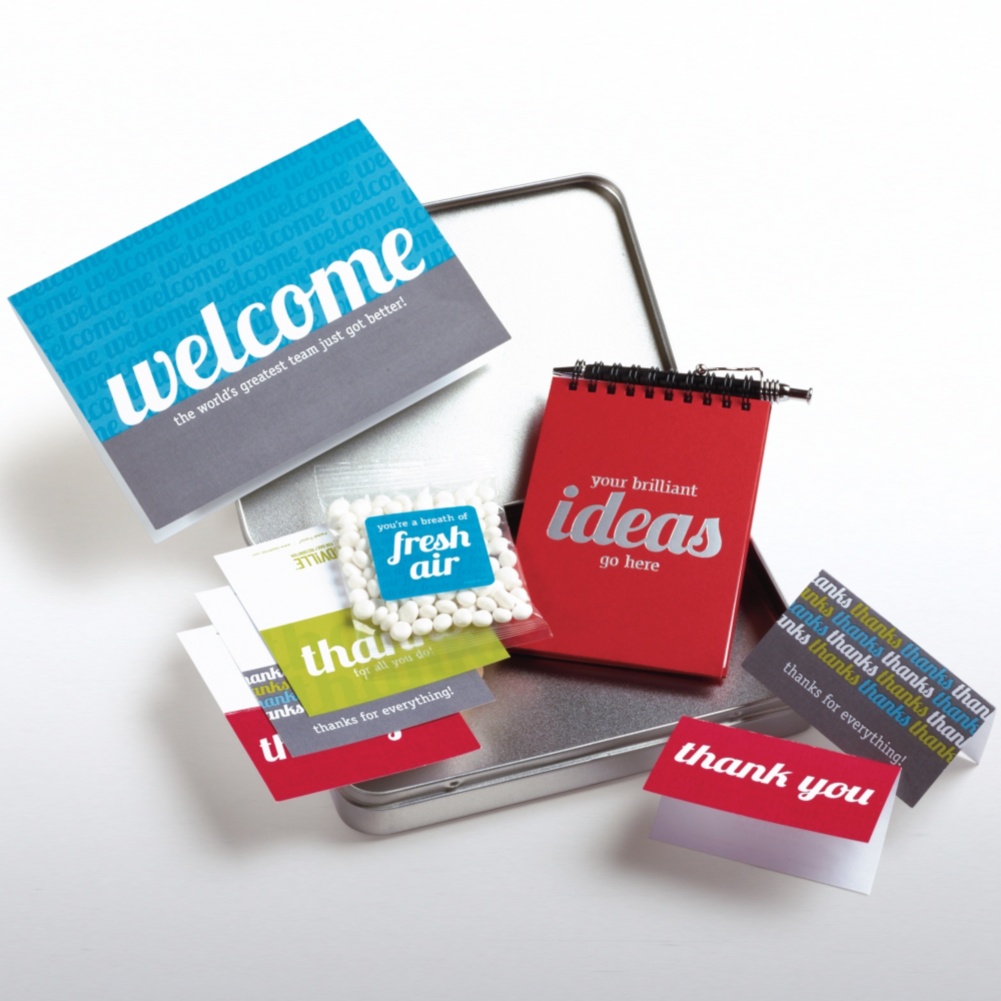 What's nice about the Welcome Kits is that they feature tools
(like thank you notes) that empower new employees to contribute to the culture right away.
Remember, a proper welcome is more than a handshake. Done thoughtfully and with the involvement of everyone in the company, it can positively impact new hires and set the stage for a successful and long-lasting relationship. And that's what you're aiming for, right?
Want to share how you welcome new employees? We'd love to hear about it!
--------------------------

Allison is a self-proclaimed Copywriting Diva and has the certificate to prove it! She's been writing for Baudville for three years and has worked in a variety of business settings for more than 18 years. Before becoming a professional writer 11 years ago, Allison worked as a department manager where she used Baudville products to motivate her team. She's what we call a true believer