Hello blog. My name is Lindsay and I am the Product Manager here at Baudville. While writing blog posts is definitely not my strong suit, I am super-passionate about my job and love the Baudville product line (naturally). Since I always have a thumb on product trends, I thought I would share some with you today: what is hot now, how best to use those products, and great ways to do so on a budget.

Coffee Anyone?


Drinkware is the quintessential employee gift. Let's face it, there are few of us who don't need that morning cup o' joe to get us ready to face the day. Drinkware is an awesome, functional gift that lets you express your sincere appreciation and we have added a variety of new and exciting lines to our drinkware category this year at prices big and small. Some personal favorites of mine are our oversized styles like The Gulp Tumblers and Big Sip Tumblers, especially when paired with the sentiment "My Boss Thinks I'm Kind of a Big Deal"! Neon is also a current design trend and our Neon Water Bottles have been very popular with our customers this year (look for a fabulous new neon style in January!). If you don't have a big budget, a great alternative would be to purchase the favorite beverage of your recipient and wrap it with a colorfully designed note. You can find many great printable wraps online (especially on Pinterest). No matter which way you go, you can never go wrong with drinkware.

Happy Birthday!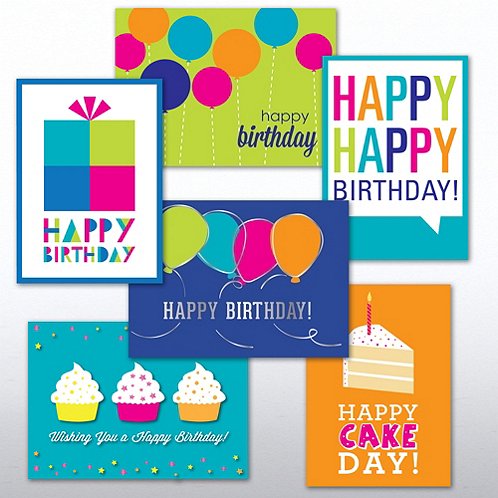 Birthdays: some people look forward to them all year, some loathe their existence. Either way, it's very important to recognize them and it doesn't take champagne and flowers to make someone feel special. A simple card will do the trick. We have a variety of styles and sentiments to make recognizing birthdays a breeze, and many of our cards can be personalized with your company logo or special sentiment to add that personal touch. Be sure to check out our Birthday Brights Classic Celebrations Assortment. Fun bright colors and sentiments make this set a customer favorite.
On a budget? Send an ePraise! We have many great birthday ePraise cards to pick from and what is best? They are free!
The same way Elf on the Shelf was designed to make children behave in December, our Shelfees were designed to make team members feel appreciated year round! These fun little fellas have been flying out of the warehouse since we launched them over the summer. Their fun faces and great messages make them a non-traditional customer favorite, with one customer stating quite simply "I love this product!" Looking for a unique gift to celebrate the holidays? Check out our great new Holiday Shelfees!


Where Did You Get that Shirt?!

The Detroit Red Wings are my favorite sports team and what unifies them is the bright red and white jerseys that distinguish them from their opponents and connect them as a team. Even if you don't run a national sports team you can still achieve that same feeling of unification and camaraderie by purchasing team apparel for your all-stars. Companies all over the country have taken a
shine to our Smart Sayings™ and Theme Shirts. They are fun, quirky, unexpected, and—most importantly—an awesome way to bring a team together. Paired with your company logo or specialized text, there is no better recognition item to unify employees and get people talking. They are perfect for team events, company parties, goal setting and achievement celebrations, and general appreciation—and they are a hit with schools too! What's better? At under $15 a shirt, they are more affordable than you would have guessed. Look out for new apparel styles and fun graphics this January, too!
---
Lindsay is Baudville's Product Manager, so she's always shopping for the hottest new item! She's been at Baudville for over nine years in a variety of marketing and product roles and knows the company like the back of her hand. Keep up with all of the new products Lindsay and her team create by signing up for Baudville new product email updates.