Memorial Day is the unofficial start of summer in Michigan, and many of us enjoyed the warm weather last weekend doing summer activities: boating, swimming, visiting the beach, and anything else outside. After five months of cold, wintery weather, Michiganders love to be outside!
I especially love to be outside in the summer, so sitting in the office on those beautiful days can be tough. But I also love the chance to participate in the many summer team events Baudville plans. Whether it's a short tournament of backyard games over a lunch break or an evening at the ballpark, summer is a great opportunity for team building.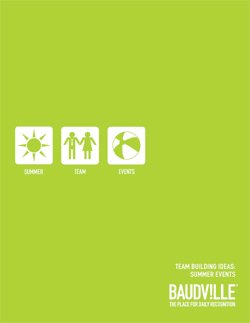 Last year, we asked our customers how they keep their teams engaged during the summer months. We received a lot of great ideas, which we compiled into the Summer Team Events eBook. Download the eBook for activities, outings, competitions, and more you can do as a team.

One of my favorite customer suggestions last year was having a regular fun activity. You can create a calendar for the entire summer and plan activities and events for your team. Share your schedule with the team, and listen for the excitement to start. Anticipation will build for your different team building events, and employees will want to come to work during the summer months just to participate.

You can start today! Did you know that June First is National Doughnut Day? Surprise your team with a doughnut treat this morning - or even this afternoon!
--------------------
Cori is Baudville's in-house Recognitionista (she's officially a Certified Recognition Professional, too) and a member of the Millennial generation. Get her employee recognition tips and special discounts by liking Baudville on Facebook.