At Baudville, our culture is typically described as "work hard, play hard." We are focused on our work and our goals, but we love to stop and have fun, too! And that is especially true during the summer when we can enjoy the beautiful Michigan weather (it's currently 80 degrees and sunny!).
One of the most anticipated summer team events at Baudville is an annual company picnic where employees can bring their families to enjoy dinner, activities, and prizes. It's a lot of fun, and we look forward to it all year. In the past, we've held our picnic at a zoo, farm, ballpark, and amusement park.
My first year on the Baudville team, we all headed down to the Grand Rapids John Ball Zoo. The zoo closed to the public, and we had the whole place to ourselves! Caterers grilled chicken, burgers, and hot dogs, and ice cream was readily available for dessert (it was really hot that night!). Employees could take in all the animals with their families or sit and mingle in the picnic area. We even had a scavenger hunt quiz, and the correct entries were entered into a drawing for some great summer time gifts.
A couple of years ago, we went to a local farm and enjoyed picnic games, face painting, and sand volleyball. There was a photographer on site, so employees could have their picture taken with their family. We even got a group shot: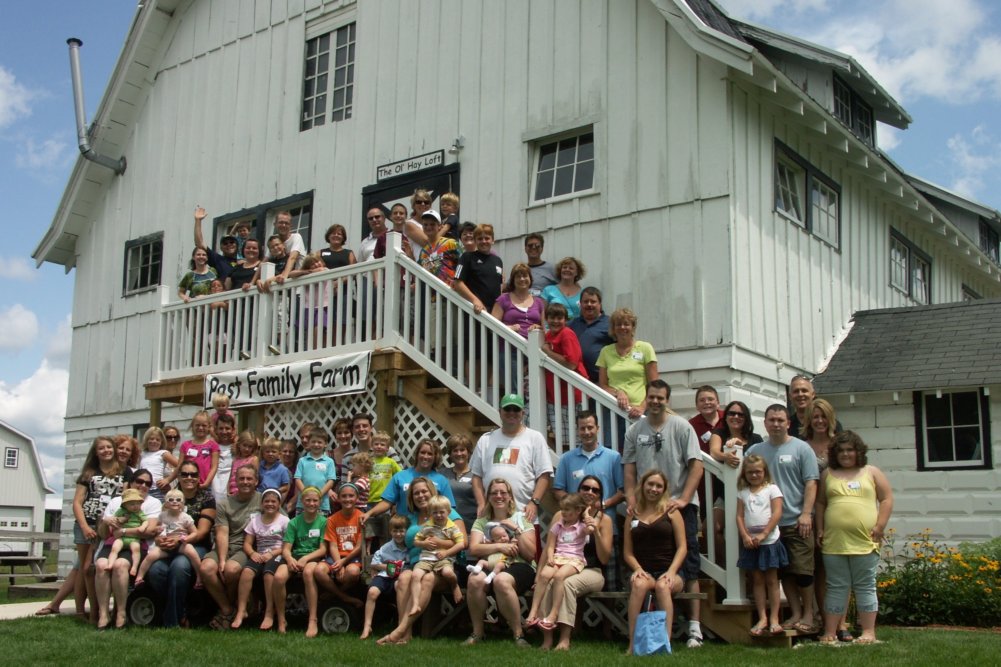 The Baudville team and their families.
One of our favorite locations for our summer team events is the Whitecaps Baseball stadium. We reserve one of their decks for our party which provides great seats for the game and provides us with our own private space. Once again we enjoy dinner, raffle off prizes, and keep the kids entertained with bubbles and games. Everyone stays in one area, so the team building is great.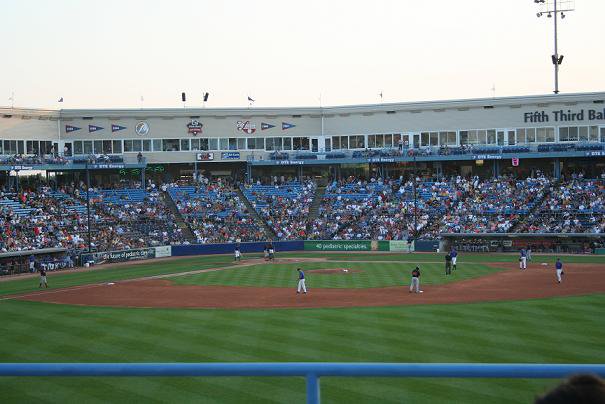 This was the view from our picnic area. Perfect for watching the game!
Going off site for our company picnic is always a blast, but we also look forward to a simpler summer team event when the CEO and CFO the grill lunch for the employees. They bring grills from home and set them up at the edge of our Distribution Center. Employees place their order with the "cooks" and load up on classic summer picnic fare: potato salad, macaroni salad, chips, etc. While people enjoy lunch, there's usually a little friendly competition going on, too.
What's your favorite summer team event from your company? Share your favorite summer team event with us in our contest! If our Facebook fans like your event the most, you could win a huge TEAM-themed prize package for your entire team! Enter your team today!
-------------------------
Cori is Baudville's in-house Recognitionista (she's officially a Certified Recognition Professional, too) and a member of the Millennial generation. Get her employee recognition tips and special discounts by liking
Baudville on Facebook
.