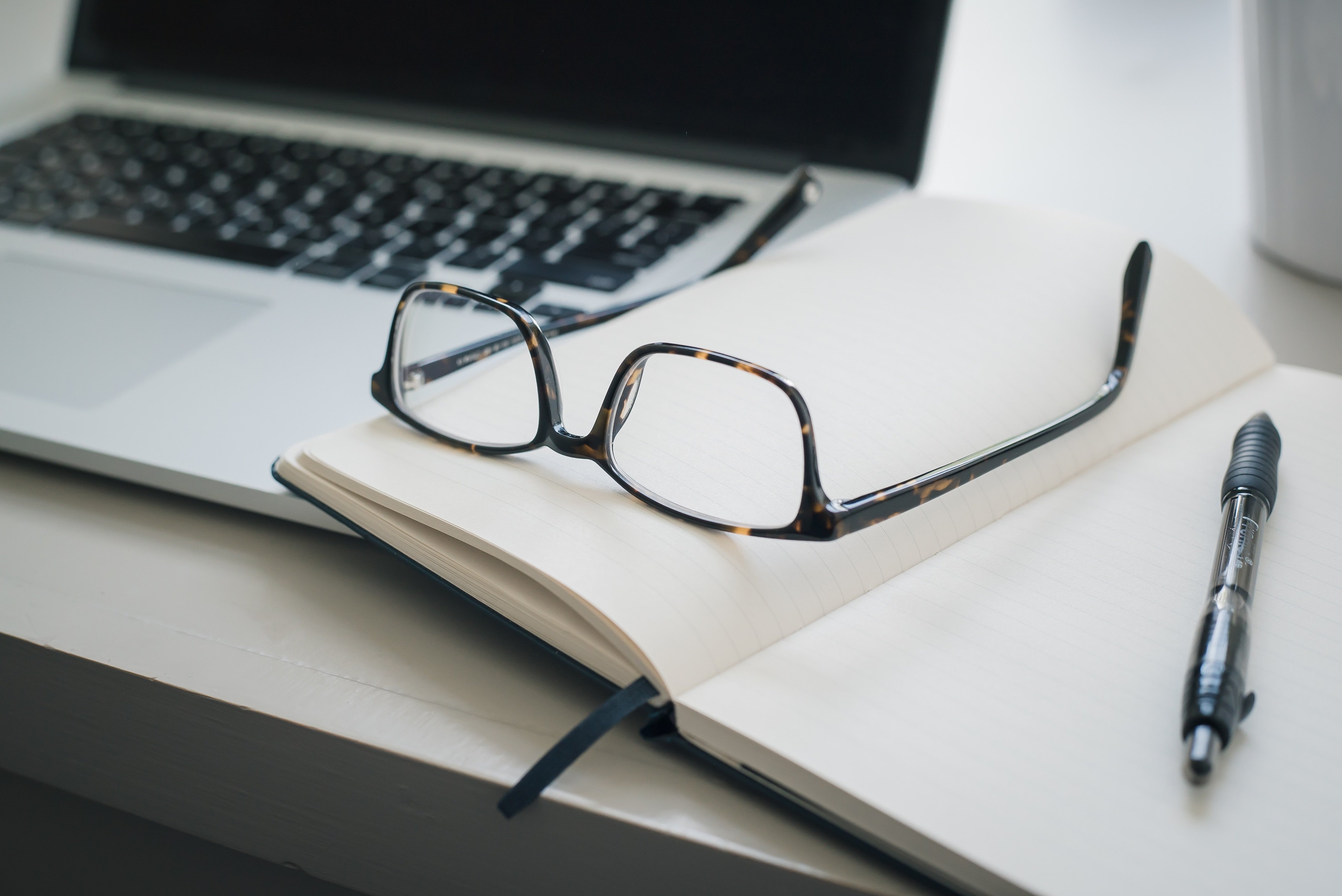 You got through the interviews, answered the call, maybe negotiated some terms, all before signing your official offer. You landed the job! The scary part is over, right?! Now it's the day before your first day of a new job. What's your mentality at this point?
I started here at Baudville about six months ago. For me, I was feeling both nervous and excited. I felt a lot of pressure going into my first day as I felt good about the job I was offered, was thrilled to start with this company that almost felt too good to be true, and I was anxious as I knew this new job was the first step into my highly anticipated career. So many steps I had taken in my life led me to this point, and I wanted it to go perfectly.
To prepare for my first day, I did some research to figure out how to be prepared and make the most of it. My biggest takeaway? It was just the FIRST day! My career wasn't riding on this single day, but that day would set the benchmark for how so many days after the first would go. Once I understood this, my nerves settled down, and my excitement become the forefront emotion.
Through both my research and my recent experience surviving a first day of work, I've put together a list of 7 tips you should take with you going into your first day at your new job. Doing each of these things made my first day a success, and the best part was how well it set me up to succeed at Baudville from there on out.
Surviving Your First Day at Your New Job [7 Tips]
Early is on time. On time is late.
This one is pretty straightforward. Don't be late! Show up 10-15 minutes early. This shows that you're prepared, punctual, and excited to get started.
Forward Role conducted a Twitter poll to determine what people were most nervous about when starting a new job. Here are the results.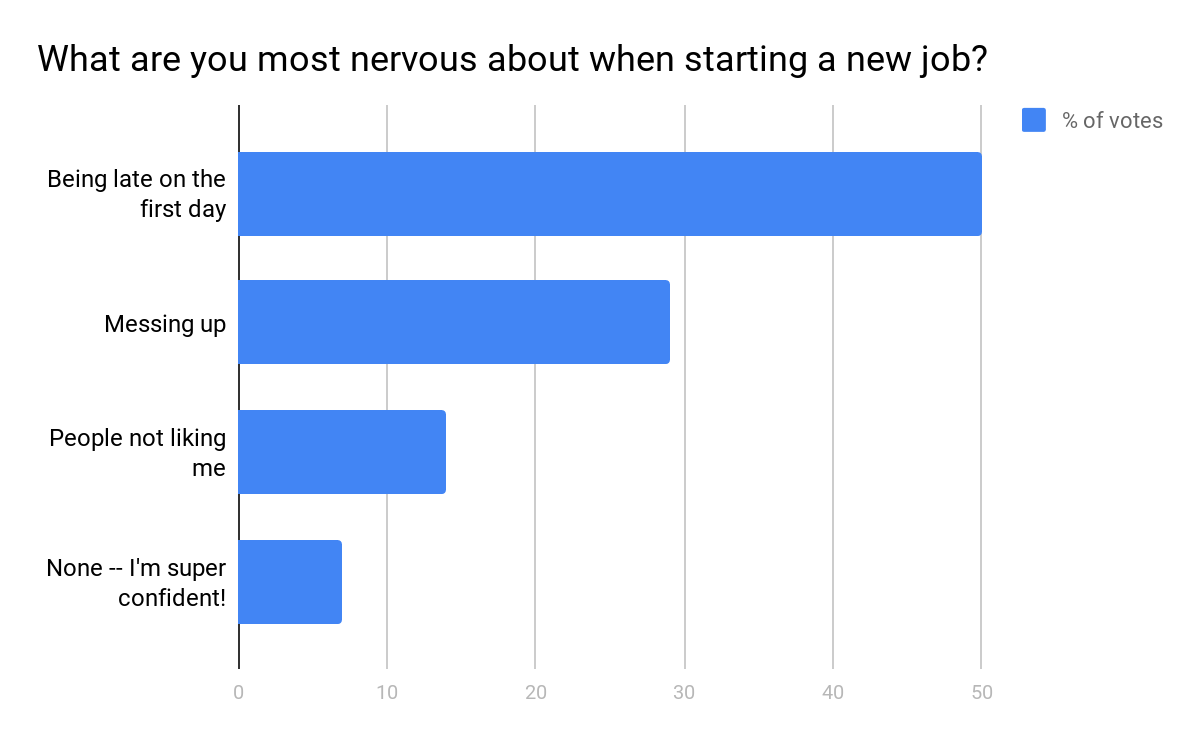 How can you make sure you're not late on your first day of work? Consider commuter traffic and weather conditions when planning how long your commute should be. I recommend a practice run a few days before your first day. I did this before mine, and BOY am I glad that I did. The traffic was much worse than I expected, and if it weren't for that practice run, I would have been more than 10 minutes late on my first day!
Pack a lunch.
Chances are you'll have lunch with your new team or manager on your first day but come prepared for anything. Whatever you do, don't bring tuna fish or anything else with an extremely strong smell. You don't want to be known as the person with the smelly lunch. Also, don't bring a frozen pizza or anything that needs to be prepped until you know what you've got to work (like a microwave or oven) within your lunch area.
Packing your lunch leaves you with plenty of flexibility- you can either scope out the lunch scene to see what a normal day looks like or end up going out for lunch with some coworkers. Don't decline any invitations to join someone for lunch! It might be uncomfortable that first day, but it'll pay off in the end.
Prepare your elevator pitch biography.
You're more than likely going to be asked several times where you're from, what you did before this new job, among other questions your coworkers will ask in order to get to know you better. They probably don't want to know your entire life story, so have an elevator pitch prepared and ready to fire off. This is an especially important tip for the introverts out there- it'll make introductions so much less stressful because you prepared for it ahead of time!
Show interest.
You might get pulled into a meeting for a project you've never heard about, and you might feel lost, confused, and discouraged because of it. Don't dwell on it! Instead, be attentive, enthusiastic, and appreciative that you're there learning. If you look bored or disengaged, are slumped in your chair all day, or seem disconnected from the job and the people around you, you're not going to make a great first impression.
This is important to remember when getting to know your coworkers as well, as the relationships you make at work will dictate how well you do there. A LinkedIn study revealed that 46% of professionals worldwide believe that work friends are important to their overall happiness. If you seem disinterested and unwilling to form work relationships right off the bat, you're less likely to establish those relationships down the line. Engage yourself with as many people as you can right away, and it'll make your transition into your company's culture so much easier.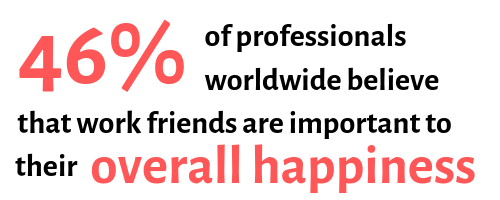 Pay close attention.
To everything. Ev. Ery. Thing. Where's the coffee station? Where's the bathroom? What time does everyone pack up and leave at the end of the day? Does anyone leave for lunch? When your manager is at their desk do they like to be left alone to work or are they open to distractions? Are meetings formally structured or laid back? The dress code says "business casual" but what's the overall look of the people here?
If you put your listening cap on, a lot of your overarching questions may end up being answered for you. Fitting into a company's culture can be just as important as checking off action items from your 90-day goal list. Observe the people around you throughout the day, and your transition into the culture and your job tasks will be seamless.
Don't be afraid to ask questions.
Just because you're being observant and trying to learn as much as you can by paying attention and listening, doesn't mean you shouldn't ask questions. You should! Asking questions shows that you're engaged, interested, and that you care enough to make sure you get things right. Now, you should be careful to not ask too many questions. You want to show interest in learning while at the same time proving that you're a problem solver and can be independent. Find the balance.
At the end of the day, just make sure you've done all that you can do to acquaint yourself with your new company's culture and job expectations the best you can. This is another thing that will really pay off in the end.
Be yourself.
This is, in my opinion, the most important tip. With all the pressure of it being your first day of work, you might feel the need to put on a façade and impress the people around you. But remember, your interview is over. The company liked you, chose you, and are excited to have you join them. Get comfortable and be your best self. You can't maintain an act forever, and hopefully this job is part of your long-term plan.
In my personal life, I'm the jokester. On my first day of work I looked for opportunities to sprinkle in my humor because that's how I connect with people. Even though I'm in a professional office setting, that doesn't mean I have to pretend like the laid-back, funny side of me doesn't exist. I just must remember "right time, right place".
In the long term, you'll be glad you've been yourself as you'll be much more happy to come to work every day, you'll work well alongside others, and you'll be comfortable. All of which are so important.
Want more onboarding tips? Subscribe to our blog!
My first day went smoothly, and really set the tone for how every day following went. Even if your first day doesn't go perfectly, doesn't mean the days after won't make up for it. Adjusting in your new position is about so much more than that first day, but if you're prepared for the first day at your new job, you'll have a great chance of succeeding within your new company.
Are you a manager looking to help your new hire's first day a success? We've got you covered!