As Cindy mentioned last week, we had our Year End employee party last week. This event has major cultural significance for our organization, and the 90% participation rate can prove it! It's an employee-only event that encourages team building and camaraderie among the entire company. Employees look forward to spending the evening together eating, being entertained, winning prizes and receiving recognition from our President and Senior Vice President.
Baudville has some special recognition traditions that happen at the end of the year. We actively promote and practice day-to-day recognition throughout the year, but our experience has also taught us that having formal awards is an important part of a recognition strategy. Employees strive all year to receive such honored recognition.
Our Perfect Attendance Award is a great example. This award happens only once a year (obviously) and rewards an exclusive group of employees. Each employee receives a personal award of $100, and Baudville makes a donation of $125 to the charity of their choice. Employees are presented with an award certificate and letter from our charitable fund, Baudville's Helping Hand, as their memento. Long after the party ends, you can still spot these certificates displayed around the building (I still have mine up from last year!).
Our annual party also gives every department their time in the spotlight. Each department is called to the front of the room where they are presented with an engraved ornament. While the ornaments are personally distributed, our President shares some of the department's successes from the year with the entire company. It is always amazing to hear what our company has accomplished!
The recognition part of our event ends with our INSPIRE Award. The INSPIRE Award is our manager-nominated formal award and is only awarded once a year to a select few employees. Our President announces the winners by reading the qualifications and accomplishments of the award recipient. This year, one of the winners took me completely by surprise.
It was me.
Receiving our INSPIRE Award meant a lot personally, and also gave me great insight into formal recognition. I had my Sally Field moment a ("you like me, you really like me!") receiving the award that reinforced my role on the team. It has also raised the bar for my work. Going forward, I will be asking myself, "Is this INSPIRE-worthy work?" In everything I do, I want my peers know that I value the award given to me and will continue to work and produce results in a way that is consistent with the award.
So after two years of writing about formal recognition and its role in a recognition strategy, I can tell you first hand that giving formal recognition to your employees works. It instills a great sense of personal pride and accomplishment, and at the same time motivates the individual for greater achievements. Implementing a respected and honored formal recognition program does take time, but the cultural and motivational impact makes it well worth it!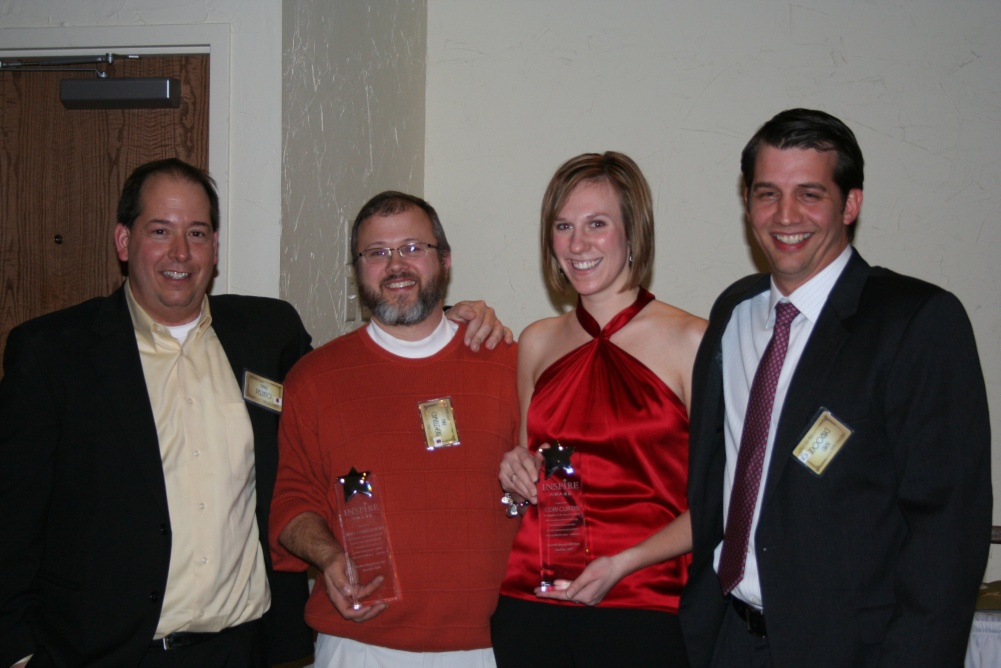 This year there were two INSPIRE Award winners. We're pictured here with our President and SVP at our Year End Party.