I just looked at the forecast for this week, and while we Michiganders can't trust the weather report unless we're looking out the window while it's happening, it doesn't look promising for this week's Recess at Work activities. Oh, well. Just like we did in grade school when the skies turned inclement we will have to find some mischief to get into indoors!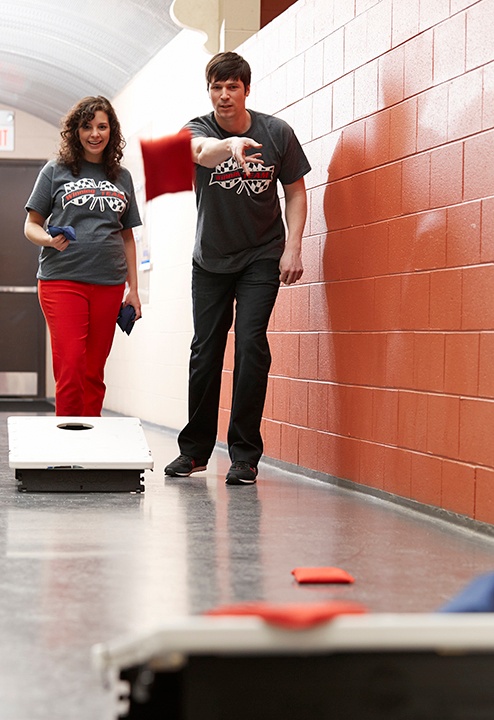 Every year, the third Thursday of June is designated as Recess at Work Day. This seems like one of those obvious events that we would celebrate at Baudville, but actually last year was our first year. It was such a hit (and a no-brainer!) that we decided to make it a tradition.
Does this sound like something you want to get in on at your workplace? Follow these basic guidelines:
Gather participants and form teams. We just completed our fitness challenge, so we're keeping those teams and creating new teams out of the others who want to take part, but weren't in the challenge. As with the challenge, we strive to form equal teams that are comprised of members with varying levels of ability and capacity. It's best if you have a neutral party picking the teams to keep it fair and to ensure no team is stacked to win.
Choose simple, quick activities. You don't want to spend a lot of time trying to explain the rules. And, you don't want to dampen the goodwill of the leadership in your company who agreed to let you do this. (Oh, did I mention? You should definitely get permission first!) By proving that you can take a break from work for fun without being disruptive, you earn trust—and consent to have a repeat event in the future. Our magic number was four activities, each taking about 5-10 minutes to complete per team.
Decide what winning looks like. It could be highest average points or it could be the team with the most wins or fastest time overall. You could also give extra points for most team spirit or best uniforms. You may think just getting to take recess at work is enough of a prize, but let's be real: it really isn't winning unless you win something, right? So, think about prizes, and make them relevant. Like drinkware to re-hydrate after all that running around or Team Shirts™ the victors can wear with pride.
Finally, remember to be safe, be flexible (are you prepared if you need to move inside?), and be ready to have some old-school fun!
Want to se what we're doing for Recess at Work? Follow us on Facebook!
---
Allison is currently living out the elaborate fantasy she described to her now-former staff and colleagues in early 2001. With a hearty dose of courage and absolutely no plan of action, she abruptly left her middle-management job to become a writer—and today she is doing just that in her role as Baudville's Senior Content Writer. She's here to tell you everything she's learned in her 20-years+ professional life, plus a lot more. She's wordy like that!