Are you ready for turkey, stuffing, and pumpkin pie? Mmmmm, I know I am! In my book, Thanksgiving is one of the best food holidays. What's not to love about all that glorious food?!
More importantly, Thanksgiving is a reminder of the value of saying "thank you." In our busy lives, we often forget to thank a coworker who did something extra that made our lives a little easier.
I'm sure you've all had an experience where you wanted to thank someone but simply ran out of time. It may have been a day when you felt like you were running at a sprint the minute you got into the office. On days like that, you know you can't make it to the finish line without help from your teammates. The problem is you're so exhausted when you stop running that you forget to send a quick note of thanks.
Thanksgiving is a time to catch up and send the thank you notes that may have fallen off your to-do list. Don't worry about the timing of your note. The most meaningful thank you is the one that gets sent!

For instance, every year around Thanksgiving my husband's employer sends a greeting card to our home. The card has a Thanksgiving look and feel with a message of thanks and the signatures of each of the company executives. It's not my husband's birthday or anniversary, but his employer knows the importance of acknowledging their employees at this time of year. It's sent to our home, not dropped on his desk, so I know the company is thanking me, too. We display the card on our counter for a couple of weeks around the holiday.

Do you have an employee who's been putting in extra hours? Send a thank you card to her family.

Has one of your coworkers been your trusty wing-man on an intense project? Send him a thank you.

Does your teammate brighten the office with her positive attitude? Let her know you appreciate it!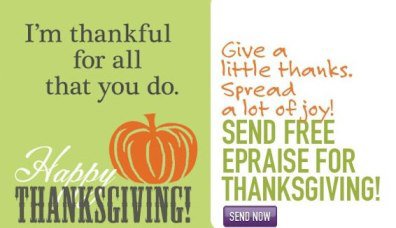 This week, take the time to send the thank yous you've wanted to send. We've made it easy for you with our free Thanksgiving ePraise cards. Select a card design, write a note, and schedule it for delivery before or on Thanksgiving. Your personal note will make you and the recipient feel thankful this holiday season.
Do you want to show appreciation for your team during Thanksgiving? Read our five Thanksgiving staff appreciation ideas in the Recognition Resource Center.
Happy Thanksgiving!
-------------------------
Cori is Baudville's in-house Recognitionista (she's officially a Certified Recognition Professional, too) and a member of the Millennial generation. Get her employee recognition tips and special discounts by liking Baudville on Facebook.