You've been asking for it and now they're here: new, in-stock, and ready-to-ship Team Shirts!!
We've taken our most popular Smart Sayings™ Team Shirts and added them to our product collection. Now, you can purchase My Boss Thinks I'm Kind of a Big Deal and Hello My Name Is Awesome with a minimum order of one! Personalization is not included. Each shirt comes is available in size Small to 2XL. These corporate shirts will make a great gift for those special co-workers, volunteers, or friends in your life! Click here to order yours today!
Looking for Ideas? Here are our top three special events to recognize your team with our Team Shirts: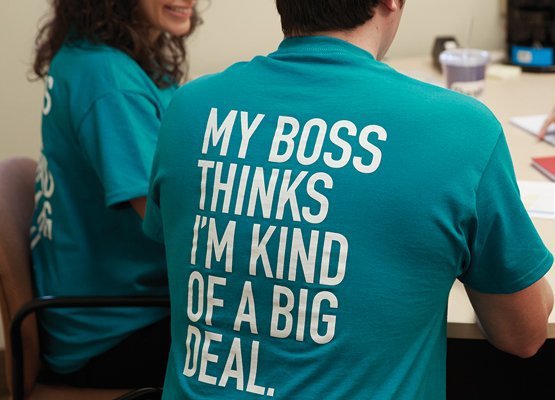 1. Summer Picnic
Pick up a team shirt and customize it with your summer picnic name, theme, and your organization's logo! Summer picnics are a great way to rally your whole team and get them pumped about the rest of the year. Picnics are also a perfect way to get to know your coworkers on a level outside of work. I love the Smells Like Team Spirit Team Shirt.
Summer Picnic Idea: Get your team together at a local park and have a cookout. This is an inexpensive way to get together and have fun!


2. Casual Days
Here at Baudville we LOVE our casual days. On some occasions we get to be casual but the caveat is we need to show some team spirit and wear our Baudville gear! This is a great way to celebrate with one another and relax in jeans and an I Rock. You Rock. We Rock. Smart Sayings tee.
Casual Day Idea: Had a great sales day? Celebrate by ordering team shirts and letting everyone be casual for the day!

3. Employee Appreciation Day
Although National Employee Appreciation Day is March 7, 2014. Different organizations celebrate their own Employee Appreciation Day throughout the year. Don't forget to let your employees know just how awesome they are during Employee Appreciation Day. Some popular Team Shirts that would be perfect for your team on this day are My Boss thinks I am Kind of a Big Deal and I'm an Office Rock Star.
Employee Appreciation Idea: Have a Team Shirt sitting on everyone's desk before they come into work so they start their day off with the right tee. One of my favorites is I Put The "Zing" In Amazing!
--------------------------

Kendra is Baudville's Product Coordinator. Using her awesome powers of organization and research, she brings new and innovative products to our customers. She is a recent graduate and is ready to help with your recognition wants and needs. Watch out, because this young professional just touched down at Baudville!