Yes, National High Five Day is a real holiday. No, Baudville did not create it. But we love the idea of dedicating an entire day to the celebration of a simple (and free!) act of appreciation.
How many high fives can you give today?
Be careful when you give a high five! You don't want to be featured in this high five fail video!
In honor of National High Five Day today, we've created a list of ten ways to give a high five. The great thing about these tips is you can do them any day, not just today! We've put a brief recap below, or you can see them all on our National High Five Day page.

1. The Original High Five. Freely give high fives to coworkers, classmates, and strangers to say thanks or great job. How many high fives will you give today?

2. Give 'Em a Hand Pens. These fun pens say high five on them!

3. Lapel Pins. Give a high five lapel pin, and increase the longevity of your high five!

4. Squeezable Praise. This stress is gives a thumbs up to your recipient.

5. Free ePraise. Send a free ePraise card to your recipients for a virtual high five.

6. Tokens of Appreciation. Make high fives a part of your regular schedule with a high five Token of Appreciation recognition program. Employees can save and redeem their "high fives" for gifts and rewards.

7. Mini Note Cards. Give a high five when you deliver one of these mini note cards with your personal note.

8. Milestones. The high five milestone is perfect for student recognition or a day-to-day recognition program. Give your recipient both the milestone and a high five.

9. Pop Up Praise. These pop up notes are a great way to say give a tangible high five to your team. Pick a note, sign your name, and deliver.

10. You Rock Trophy. Give a high five using this engravable acrylic award!
Happy National High Five Day!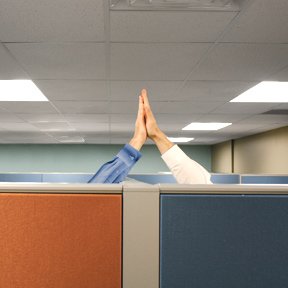 -------------
Cori is Baudville's in-house Recognitionista (she's officially a Certified Recognition Professional, too) and a member of the Millennial generation. Get her employee recognition tips and special discounts by liking Baudville on Facebook.