I follow this writer named James Altucher. He has a lot of crazy, radical ideas that, being a sometimes crazy, radical person myself, I can appreciate. I don't always subscribe to what he's pitching, but he still never fails to make me think. Though I could not find any evidence on the interwebs, he recently claimed the existence of a flash holiday called "What Would You Do If You Could Call Your 15-year-old Self" Day. Hmmmm…
If I were to partake in this holiday, I would probably incur massive overage charges for far exceeding my monthly allotted cell phone minutes. In other words, 44-year-old me and 15-year-old me would have a lot to talk about. The core theme of this lengthy conversation would be education: taking it seriously, really seriously, no, really, seriously-seriously. Because, I didn't, and I regret it. Everything shook out well for me in the end, but I am certain I would have become fabulous at a much earlier age if I had put even an iota of effo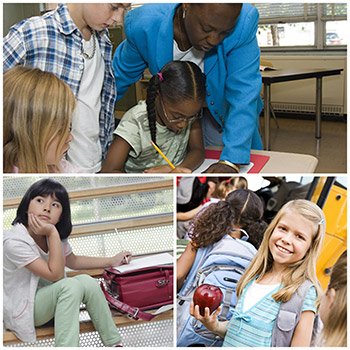 rt into my studies.
Lucky for me, I did have a guidance counselor who helped get me into college, and, to cut this long story short and get to the point, the rest is history.
When I was asked to write about National School Social Work Week, which is March 2-8, 2014, I immediately thought of my frustrated guidance counselor. But, when Ibegan to do some research, I discovered that School Social Workers serve a different role than Counselors. What I've learned is that School Social Workers specifically focus on the social, environmental, and psychological factors that can inhibit students' academic progress. Poverty, abuse, bullying, neighborhood violence, and physical or mental illness are just a few of those factors. A bit humbling to realize that while I was simply disinterested, many children have real obstacles that prevent them from getting an adequate education.
School Social Workers aid and support the most vulnerable and at-risk youth in our schools. They provide counseling, crisis intervention, and prevention assistance, helping students overcome difficulties, and ultimately offering a better chance for success—not just in school, but in life. That's a lot on their shoulders, isn't it? But, it's worth it, they say, because when they are able to make a difference, the rewards are high: a child gets a chance to be more than their circumstances dictate. Awesome, huh?
If you know a social worker, show your appreciation for all they do. March 2-8, 2014 is the week to say thank you, so do it often, heartily, and sincerely!

--------------------------
Allison is a self-proclaimed Copywriting Diva and has the certificate to prove it! She's been writing for Baudville for five years and has worked in a variety of business settings for 20 years. Before becoming a professional writer 13 years ago, Allison worked as a department manager where she used Baudville products to motivate her team. She's what we call a true believer!