Last Friday (the 13th - yikes!!) we celebrated 2013 at our annual Baudville Year-End Party. This was my 8th foray into the year-end festivities. I speak from experience when I say of all the parties at the 'ville throughout the year, this is the one you don't want to miss; it's filled with great prizes, good food, lots of laughs, and of course some sincere recognition and appreciation. And this year did not disappoint! Here are some highlights: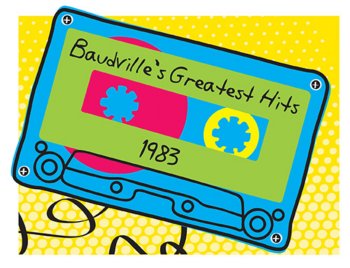 - In celebration of our 30th Anniversary as a company, our party theme was built around the year Baudville began: 1983. Our tables were named after popular 80s movies, the centerpieces were filled with popular 80s candy, glow sticks, and fluorescent fingerless gloves. We played 80s trivia as a table and guessed if our co-workers were born before, after, or in 1983 – a great way to break the ice and get to know each other better!

- The prizes at the Year-End Party are always top-notch. This year the big ticket items were a PS4 and an Xbox One. Altogether there were about 20 prizes given out, and watching our CFO dash back and forth across the room with prizes and drawings is almost as fun as winning something!

- Each year at the Year-End Party, we present our INSPIRE award to two manager-nominated individuals who best exemplify our core values. This year, the first award was presented to a very deserving individual who has been with the company for many years. She's a team player, always willing to help, and does her job with great attention to the details. Our CEO and CFO surprised our second winner (the HR Manager who plans the event!) – complete with a dummy trophy to throw her off from what was actually happening that evening. It was fun to see the shock on her face! The fact that they would go to such lengths to make it a special evening for both of the winners is proof of the leadership's admiration and appreciation for these two individuals.

As always, the Baudville Year-End Party was a great time to let loose, enjoy some time with co-workers and friends, and applaud another year well-done. Cheers to a great 2014!


--------------------------
As a team member since 2005, Falon has worn just about every hat the 'ville has to offer. She's seen both sides of working life — as an employee and as a manager — so if it sounds like she knows what she's talking about, we're pretty sure that's why. When she's not juggling between the IDville and Baudville brands, she's been known to whip up a mean diorama - just like that!