As the business day approaches its end, hushed whispers bounce around from cubicle to cubicle. "Do you think we'll get one?" "I heard that we were going to have one." 4:30 comes and goes… no word, 4:45… nothing. The realization sets in as Baudvillians shuffle papers, finishing their final projects of the day, sighing from the unfulfilled rumors. 4:50, out of the corner of my eye, an email pops up on the computer screen. Casual Day Tomorrow!!!
No email brings greater enjoyment then one proclaiming a Casual Day. Casual Days are cherished events here at Baudville. Rejoicing rushes through the entire building. "Yes! We get to wear jeans tomorrow." Being a college student I am personally all for casual dress, so I can't help but look forward to a Casual Day. For me, Casual Days mean pushing the snooze button 1 extra time.
There are a number of reasons as to why your company can offer Casual Days. Your employees could have achieved a goal of theirs, they might have gone above and beyond by working late, or the company could have had a good sales day. This week several of our teammates were out of the office representing Baudville and Idville at the annual SHRM conference, back at the office, our CEO enticed us with a few Casual Days.
But there was a catch; to obtain our Casual Days we had to wear an "I'm Casual Today" sticker with a creative reason stating why we deserved to be casual. These reasons ranged from I am casual today because: I dominated a project, to I can recite the Jabberwocky passage in Alice in Wonderland. Allowing for lots of conversation and laughter throughout the day, as we read everyone's I'm casual today stickers.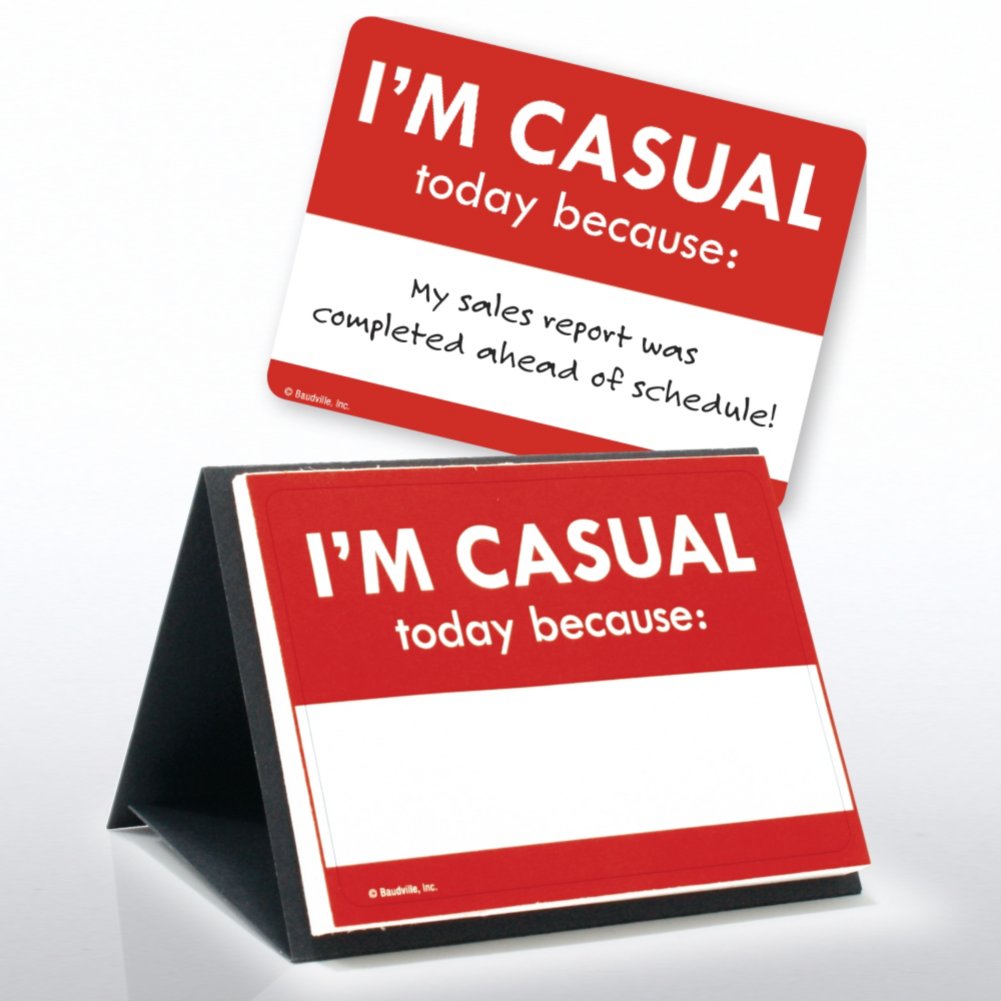 Casual Days for us are not a day to slack off in our jeans. It is a day when we are appreciated for doing a great job. To keep our morale going, we receive casual days to reiterate the fact that we have been working hard and to keep up the hard work.
As I finish up this blog post its 4:30, and I'm keeping my fingers crossed tomorrow will be day 3 of Casual Days!
---------------------------
Kendra is the newest Baudvillian. She is currently an advertising intellectual at Grand Valley State University, and is ecstatic about the change of atmosphere as Baudville's web marketing intern. Watch out because this young professional just touched down at Baudville.