In our catalogs and on our site, you see their creations every day...now, meet Baudville's design team! This summer, we're bringing you a new series that features the personal works of our talented artists. You'll learn what inspires them, get to know their signatures styles, and even have the opportunity to download free, one-of-a-kind desktop wallpapers they've imagined just for you!


Our first featured artist is Laura, Baudville's Creative Manager.

Read on and enjoy your free downloads!
There's a design trend right now that I can't get enough of. I fall deeply in love with many, but one has grabbed me and won't let go, like the romantic comedy that you want to watch every Sunday. This trend features beautiful words laid over stunning photography. You can see what I mean HERE...Ok, now that you're back after no doubt hours of browsing and getting lost in it, as I do, let me tell you that I really wanted to make some of my own to share. My versions integrate text that I love with personal photos from some of my travels. I hope that you find enjoyment in them and that you have in mind what your words would be and think about what moments you would want to document.

1. My husband and I had the amazing pleasure of spending our honeymoon in Hawaii. We heard that it was a gorgeous paradise, but until you are there, you don't really know exactly what that means. It is a slice of heaven if you ask my opinion, and we loved every second of our trip. One thing that I remember is going for a walk in the small town of Paia in Maui and, as we walked, house after house had their front doors open to the wonderful breezes. As I peered in (yes, I have a self-proclaimed staring problem) you could see that their surf boards were ready to go and that these beach dwellers had crashed there with minimal belongings, as they only really needed one thing...waves.

We sat for hours watching surfers race to the ocean to hang ten; they worked hard all day so that they could play hard. They weren't rushing to their TV to see the latest episode of (insert guilty pleasure here), they were waiting for Mother Nature to provide their joy and entertainment. I love the visual of this surfer waiting for the next wave. And, while in Michigan, I try to reminding myself to keep my eyes open for 'my waves' and dive in when I can.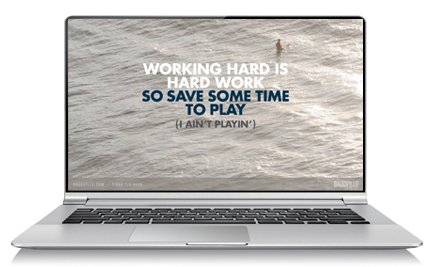 2. Baudville has given me the opportunity to see a couple of states that I might not ever see, and I have enjoyed these business trips so much. New Orleans, Chicago, New York City, and San Diego are a few on the list of my adventures. This photo is from Petaluma, CA—an adorable town that I had the chance to explore one day. I knew of it because it is home to one of my favorite brews, from Lagunitas Brewing Company, so I was excited to see the town in person. From warehouses turned offices to the chill overall atmosphere, it was a very peaceful place. I took this photo of a field by our hotel. It was a gorgeous breezy day, and I loved the movement of the tall grass. My thoughts on the field matched my first impression gorgeous of California which is...."just go with the flow."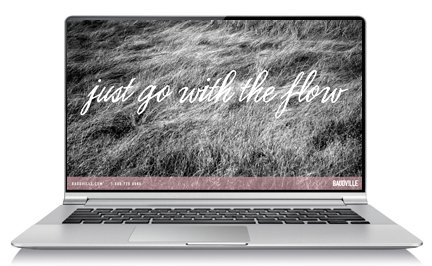 3. My third wallpaper design features Cripple Creek Colorado. Several family members have lived in Colorado, so—coming and going—that state pulls on my heart strings and holds many fond memories. During a long hike, I stumbled upon these Aspen Trees and sat for a few minutes. What's great about being up in the mountains, close to the sky is that....my cell phone doesn't work. I can't check to see who 'likes' the movie that I saw last week or who is now 'checked in' at Starbucks. Nope, it's just me and the Apsens—and that day they weren't too talkative; it was just silence. It was lovely and so incredibly serene.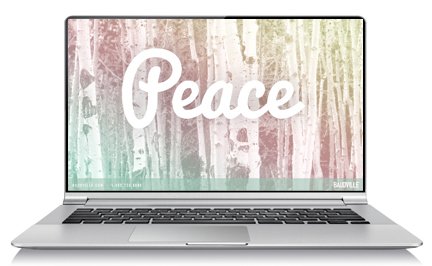 --------------------------

As Baudville's Creative Manager, Laura is the cherry on top of a diverse and supremely-talented design team. In her eight years at the 'ville, she's contributed to a complete revamping of the Baudville brand, seen thousands of products developed from a spark in the artist's eye to completion, and been a driving force behind the fetching catalogs that grace mailboxes everywhere. Yet, somehow, she has still not seen the Princess Bride. Inconceivable.