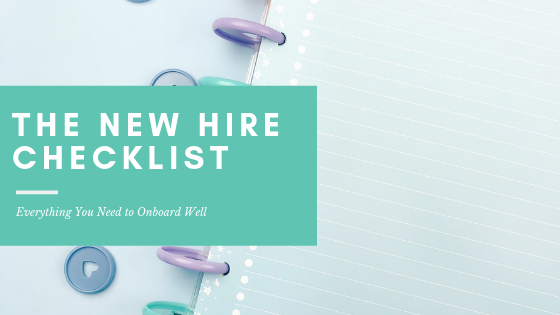 The onboarding process is like dating. Think about it. You're getting to know one each other and both depend on great first impressions.
Have you ever had a horrible date? They arrive late, forget your name, and seem distant and uninterested the whole time? Unstructured onboarding is like a really bad date.
However, being prepared with a structured onboarding process can help you avoid making a bad first impression with your new hire. First, you'll want to start with the onboarding basics.
To help you, we've created a checklist of onboarding must-haves for each check point.
Have a New Hire Onboarding Plan
A good onboarding plan is a structured one. Be prepared for welcoming your new hires and helping them get settled in. Most companies have first days down but making sure there's a plan in place for their 30-Day, 60-Day, and 90-Day check-ins is important.
"New employees who went through a structured onboarding program were 58 percent more likely to be with the organization after three years." (SHRM)
New Hire Onboarding Checklist
First Day
Prep for their first day orientation. Make sure you have all the paperwork ready for them to fill out and copies of important policies they need to know. Technically the prep needs to happen before they arrive but do a last-minute check to make sure you have it all there on their first day. ProjectManager does a great job at detailing what forms and requirements you may need here.
Give an office tour. Showing them around will help them not only get their bearings but will also make them feel a little more comfortable in their new space.
Have a team huddle. New hires will have a chance to meet their team. Play a fun ice breaker or two to keep it light and fun.
Schedule a manager lunch. Get some one-on-one time with the new hire so that you can evaluate how they're feeling about their first day and give them a chance to ask some nitty gritty questions.
Make time for desk time. Be sure to allot some time in the new hire's first day so that they can get introduced to their new home away from home. This is also a good time for them to set up their login credentials and meet with IT.
PROVIDE AN ONBOARDING SCHEDULE. This is bolded because it is super important! If you ignore every other tip we provide, don't ignore this one. Having a schedule your new hire can refer to throughout their first week (at least) will keep their onboarding process running smoothly. No sitting, tapping fingers, looking bored here!
Welcome them with a gift. Onboarding kits are a fun way to say, "we're excited you're here" and get your whole team involved in gifting it.
BONUS TIP: Make sure your new hire's onboarding schedule is packed with cross-training opportunities, department tours, and company history lessons.
First Week
Team member one-on-ones. Schedule time for new team members to get to know what existing team members' roles are and who they are. Have them train the new hire on their roles and responsibilities. Giving them a chance to learn about each other on a personal level will help foster team camaraderie!
Teach about the company. Here at Baudville, our CEO holds a new hire class for each round of newly onboarded staff members. Yes. He takes time to meet every. single. new hire. (so awesome!) He talks about the history of the company, our company values, and business insights.
Prompt connections with key departments. Your new hire is going to be interacting with the distribution center? Perfect. Set up time for them to meet the DC team, where they can ask questions and learn who they need to go to in the future.
Cross-train them. Giving new hires the chance to learn about other roles within the company will give them a holistic view and a chance to see how it all works.
Create goals with them. Establish 30-day goals that are focused on their onboarding process (i.e. completed a set number of trainings or tutorials). This is also a good opportunity to set up team expectations.
30 Day
Have a 30-day check-in. How are they doing? Where are they at with their goals?
Establish 60-day goals. These goals can be more focused on what they were hired to do as they are settling into their role.
Celebrate small wins! Woo hoo! They reached their 30 days and hopefully achieved their goals. A small gift to encourage them will keep them engaged and motivated to kick butt for their next goals.
Have a team activity. Continue to promote team member relationships and team bonding.
60 Day
Have their 60-day check-in. Evaluate their goals. Are they fitting into the role and team nicely?
Get their feedback. It's important to learn from your new hire. How can the onboarding process be improved?
Set them up for success. A journal or personalized power bank is a great way to show your appreciation, while also being a tool they can use for their job.
90 Day
Meet for their 90-day check-in. This is a make or break mark. Are they meeting expectations? Are you as a manager and your team meeting the new hire's expectations? Talk about the process so far.
Celebrate their 90 days. They've been onboarded, which is cause for celebration. Treat them to lunch and present a 90-day gift for their achievements!
Beyond
Even though the official onboarding process is over for your new hire. Make sure you are setting them up for continued success by creating a cadence of feedback, setting expectations, and establishing standards.
Learn more about how you can be an onboarding rockstar with our Onboarding eBook.