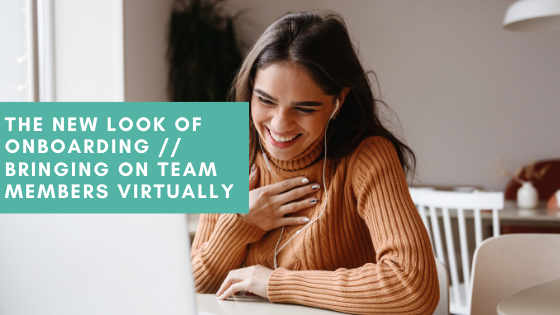 The New Look of Onboarding (It's Still About People)
As we continue to power through challenging times, onboarding remains an essential factor in keeping our businesses resilient and moving forward. Brand new team members add a breath of fresh air and renewed vitality to a work environment (even a remote one!).
As Lawrence Bossidy, the former COO of General Electric, said, "Nothing we do is more important than hiring and developing people. At the end of the day, you bet on people, not on strategies."This quote stands true, especially now, in regard to how we welcome new employees into the fold. Onboarding may have a different look—remote, virtual, social distanced, or a combo of all three—but it's always been and will always be about people.
The Essentials
The first impressions made during onboarding can make all the difference as an employee begins their journey with you.
The stats tell us just how important onboarding is—the Society for Human Resources Management says that "69 percent of employees are more likely to stay with a company for three years if they experienced great onboarding." Clearly, you set your newbies up for success by getting them up-to-speed and connected with the team immediately.
A handful of essentials:
Ensure the new employee is immersed from day one by outlining what your company culture looks and feels like. Have other employees fill them in with more specific details, preferably in person or through video.
Make sure they have all pertinent information and materials needed to understand their new position, including a job summary, company policies, procedures, and expectations (send the company handbook via email).
Have your HR person/team connect with them directly to explain salary, health and retirement benefits, paid time off, etc.
Provide equipment (laptop/phone) and any necessary applications.
Offer consistent support, communication and check-ins.
Video is Your Friend
Where on earth would we be without the ability to connect virtually? Video conferencing allows us the face time we all need to feel a part of something. Seeing smiling, happy faces right off the bat sets the stage for your new staff member to have a positive experience.
Encourage the team to individually introduce themselves via a quick video chat. Connecting in a one-on-one space gives the new hire dedicated time to get to know everyone professionally and personally.
Isolation—Be Gone!
If you're all working remotely, or your staff never seems to be in the same place at the same time, have at least one virtual team meeting per week. This will get your new employee integrated and simultaneously help everyone else stay connected.
During that weekly meeting, plan a team-building activity that lifts everyone's spirits (visit Teambuilder.com for some innovative ideas). Or dedicate Friday afternoons at 4 p.m. to a virtual happy hour. Send your staff a colorful beverage tumbler and toast to the best team ever.
Keep it Light
Don't immediately overwhelm your new hire. Give them two or three initial tasks, with ample direction, to complete during the first week. Easing them into their role and keeping expectations at a reasonable level ensures a comfortable transition.
During week two, remind them that you really care with a tangible boost. It doesn't have to break the bank; even small forms of gratitude make a lasting impression.
Check in (again and again)
This one ranks way up there on the importance list—offer consistent support, communication, and check-ins. Remember: an employee that feels supported is more likely to stick with you for the long haul.
Touch base with your new hire a couple times a week until you know they're completely settled in. Then reward and show appreciation as they continue to grow in their role.
You Got This!
With a little time, remote/virtual work and onboarding will feel like the norm. In the interim, don't be overwhelmed—you have all the necessary pieces to give your new employee a memorable welcome; you just have to implement those pieces in a newfangled, creative way.
Side Note: Be sure to get feedback from your new hire. How was their onboarding experience? Did they receive the welcome they expected, or is there room for improvement? Don't shy away from ways to improve. Strengthening your onboarding process will only make for a more thriving business with loyal, vested employees.
BONUS // Share these tips with them to help them make working from home work for them and insight on successful video meetings – it may help ease first week stress!
Send them a gift before the officially to start to give them a big welcome to the team. Shop work from home gifts here.