Temporarily, that is. A delegation of Baudvillians is packing up and moving out for next week's Society for Human Resource Management (SHRM) Annual Conference. We've spent the past several months planning our strategy for SHRM, getting the coolest giveaways, designing a show-stopping booth, and we're finally ready! We have a few big things in store, and we hope you'll join us next week at booth 831 to learn more! Here's a taste of what you can expect in the Baudville booth:
New Product Premiere. We're releasing over 250 new products at SHRM this year. June 28 is the first day the products will be available on our website, and SHRM attendees who stop by our booth Sunday night will get a sneak peek. This product roll out includes a new signature day-to-day recognition product, six new themes, and sweet new Cheers Kits that you will want to get your hands on!
Cool New Shirts. Attendees loved the fun sayings on our staff t-shirts last year. The shirts are back with new sayings that are sure to earn a few chuckles.
Special Gifts for the Media. This year, we created a special media kit and offer that's sure to cause the media to pause. I hope you'll stop by the booth to chat, reach out via Twitter, or find me at the Monday night Tweetup. I guarantee you'll be inspired by what you learn about Baudville!
Sweet Swag. I don't want to give away too many details, but HR attendees are going to have to have this bag!
Cupcakes Galore. Once again, we're partnering with a local gourmet cupcake bakery to celebrate the opening of the show and our new products. Stop by early on Sunday though, because these red velvet cupcakes are so delicious, they're going to go fast!
Show-Stopping Booth. We put a few special touches into the booth this year, and we have double the space. You'll find Baudville in a 20x20 island booth in San Diego. We are super excited! We gave a sneak peek to some local customers a few weeks ago, but we kept a few surprises for SHRM attendees. We're in booth 831 this year, and we hope you see you there!
Not Going to San Diego? Bummer. You can follow all the excitement from the Baudville booth through social media. Follow @Baudville and me, @coricurtis on Twitter for the most recent updates direct from the conference. And check Facebook regularly for pictures, videos and more!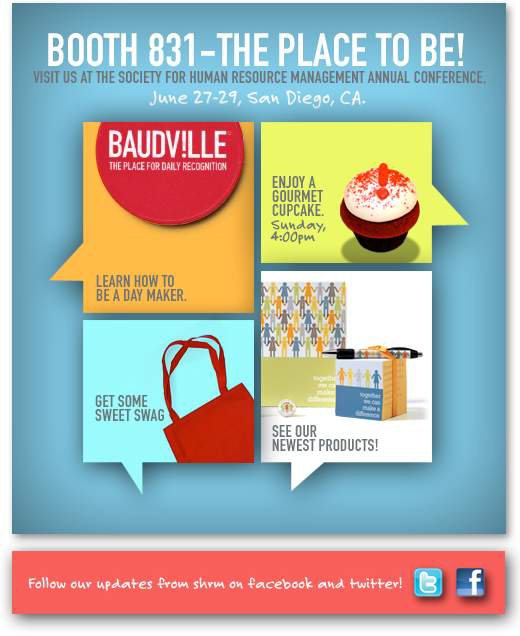 ---------------
Cori is Baudville's in-house Recognitionista (officially, she's a Certified Recognition Professional, too) and a member of the Millennial generation. Get her employee recognition tips and special discounts by liking Baudville on Facebook.